I hate to burst your bubble, but summer in Iceland is not exactly "summer-y" weather. While summer is a beautiful time to visit Iceland, (well, I think ALL seasons are great to visit!) chances are it's not going to feel like the summer you are used to.
There's a lot of reasons to come during summer – the days are long and the midnight sun is beautiful. Everything is green and the sheep are roaming the countryside. There's a lot to do, including whale and rafting tours as well as fun festivals.
Summer in Iceland is typically during June and July and maaaybe into mid-August. Temperatures will be around 12°C/55°F on average, and up to 15-18°C/60-65°F a few days out of the year.
The main think about while packing for summer is pretty much the same as any other time of the year – always be prepared for wind and/or rain. Remember it's not uncommon to experience multiple forms of weather in one day! Dressing in layers is the most important thing. It can start off cool in the mornings, but warm up during midday so having clothing that you can easily take on and off is key.
I've left the basics out of this packing list, you can decide how many pairs of socks and underwear you want to bring!
A lot of you have been wondering what to pack for your summer trip, so I've come up with a complete list for you (make sure to download the list at the end!)
Outerwear
Weatherproof Shell: You're going to want a jacket that is wind/water resistant but also provides some warmth. This is different from a rain jacket – I would say I mainly use this during these months. I love my jacket that hits below the waist and has a hood, you never know when you're going to need it!
Rain jacket + Pants: If you want to go in or around some of the major waterfalls, you can expect to get pretty wet! Having a waterproof jacket and pants will come in handy. You can quickly take them on and off depending on the activity.
Hiking pants: I have a lightweight pair of hiking pants that I love as a barrier for wind and rain. If it's raining, I put on my completely waterproof rain pants, but I love these because they are comfortable, flexible, and keep me protected from the elements. Good for interior hiking and camping.
Packable down jacket or vest: I have a down vest and jacket that I can add if I need an extra layer of warmth between my base and shell. I think these are especially handy because they pack up into a tiny bag – it's all about saving space and weight! These are awesome and come in a bunch of fun colors.
Hat/headband: Yes, unfortunately, you do need something to cover your head/ears some days during the summer. I mean, not all days…but if you need it you will definitely want it! I find especially by the ocean or the more inland we go, the cooler it gets. Also, the Northern part of the country is generally cooler during the summer.
Gloves: Same thing for gloves, I have only used them a couple of times this summer, but no one wants cold fingers. I found that the hat/gloves were especially nice to have when we were camping.
Buff: Worst case scenario is it gets cold enough that you want to keep your neck warm. OR you are from a super warm climate and the Icelandic summer is going to feel cold for you. Either way, better to be more prepared yeah? I have a lightweight buff neck warmer that I always pack on adventures just in case I need it. Again, inexpensive, versatile, and lightweight. Bonus, it can double as a headband in a pinch!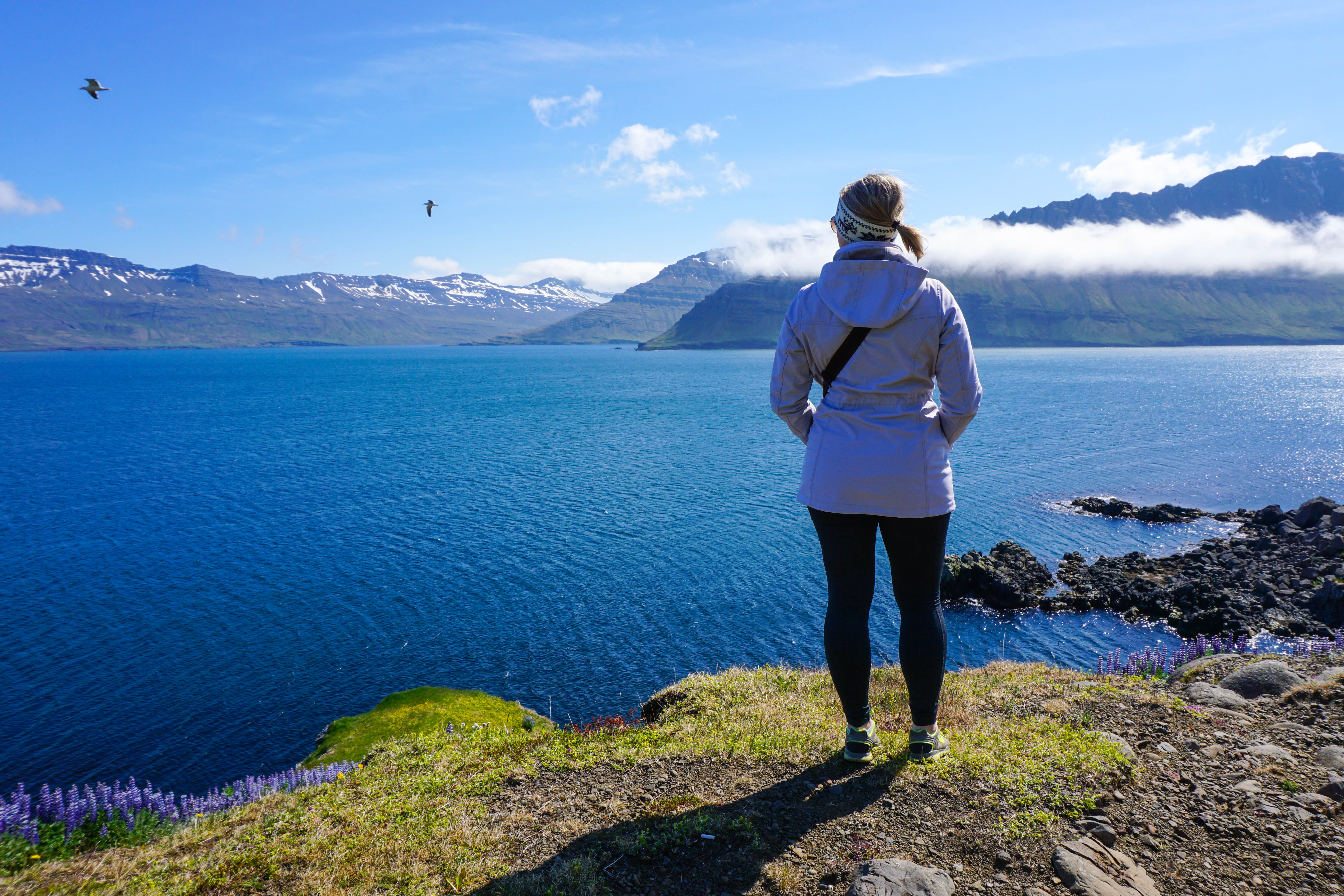 Layers
Thermal base: Be on the safe side for warmth and comfort, I suggest bringing both top and bottom. Especially if you're camping/heading interior these are easy layers to build warmth.
Shirt: Unless you are extremely hot blooded, I recommend sticking to long sleeves. I can think of two times this summer I went outside without a jacket, and one time I wore a t-shirt when I was out for a run. There might be nice days, but they are fewer and further between. My go-to is a chambray, long sleeve tee or light sweaters.
Fleece: This will be easy to layer, or even wear as a jacket alone if you don't need protection from wind or rain. Patagonia 1/4 zips are my jam.
Leggings: I have a tendency to only want to be reeeally comfortable when I'm traveling, so I stick to practical athletic spandex. They're versatile, lightweight, and comfy!
Jeans: While I don't recommend jeans for exploring, it will be nice to have jeans for going out to dinner or hanging with friends.
Footwear
Hiking boots: I can't tell you how much I love my Ahnu hiking boots. They are waterproof, have amazing traction, and are super comfortable. I highly suggest a good quality pair of hiking boots to navigate the rugged terrain.
Walking shoes: I love my Merrell walking shoes if we are taking an easy day walking or exploring. They're not as durable as hiking boots, but another great alternative for exploring around Iceland.
Flip flops: Not a fancy pair and not for walking on the beach. I like to bring a pair flip flops with me when we go to the hot springs, it makes it easier to get in and out of the pools and back to the changing rooms!
Hiking socks: You won't need heavy duty wool socks in the summer, but it's still a good idea to have moisture wicking socks. My favorite is SmartWool Outdoor Light socks.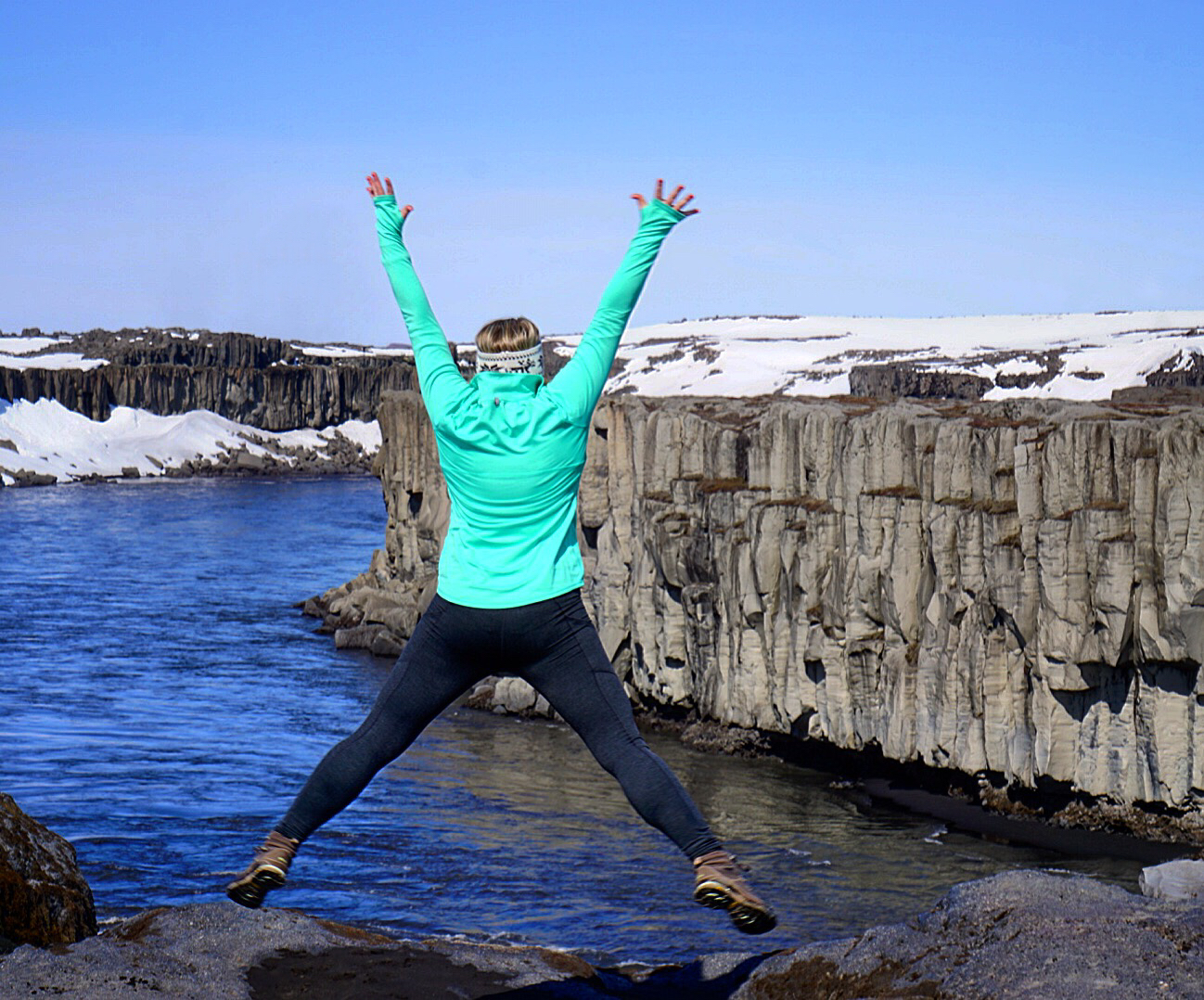 Etc
Sunscreen: Even though the temperatures aren't very high, the sun is still blasting down at you – for almost 24 hours/day that is! Keep your face protected and any exposed areas of skin with an SPF that's right for you. Remember when you're soaking in the pools, too!
Walking poles: If you're planning on doing a lot of hiking, you might want to consider a pair of walking poles. Honestly, there's no shame in using these, no matter what age you are!
Backpack rain cover: I always bring a day pack along with us, no matter where we go. However, if you get caught in the rain, you want your gear to stay dry. I invested in this rain cover for my backpack and I love it. It's inexpensive and folds up into a little pouch. Plus it comes in multiple sizes, depending on what kind of pack you have. I don't always need it, but when I do, it's a lifesaver!
Head net: If you are coming in May or June and spending any time in the Myvatn area, you will want to seriously consider packing one of these! I know they look ridiculous, but seriously you guys the bugs around that area are out of control! Don't let the bugs ruin your trip, these are cheap and lightweight.
SLEEP MASK: You know it never gets dark in the summer, right?! It's a serious issue for me, but especially if you're not used to it! I'm telling you, the sky is bright ALL through the night, it's crazy! I swear by this sleep mask – it's super soft and comfortable, and completely blocks out the light.
Swimsuit: Icelanders LOVE pools, there is a pool in every town! And not only that but there are dozens of hot springs you will find around the country. Trust me, there is nothing better than relaxing in a natural hot spring in the middle of the wilderness.
Quick-dry towel: Quick dry towels are so convenient because they fold up small and obviously dry quickly. Especially if you're planning on camping or staying in a hostel (pay for towels), or swimming in the natural pools, this really comes in handy.
Sunglasses: For obvious reasons. Bonus if they are polarized!
Day Bag: You want some sort of multi-purpose bag that will be comfortable on your back when walking around but also functional. I love this one because it has plenty of storage for my camera, but I can also bring day trip items like my swimsuit and towel! And it has a strap for attaching a tripod which is a really nice feature.
Water bottle: Buying water in Iceland is just silly. You can drink the water out of any faucet or even from the stream you are hiking by – it comes straight from the glacier!
Camera: Duh! *See my complete camera essentials + packing list HERE!
Car chargers: For when your camera and/or phone goes dead when you're on the road.
Extra phone battery: What's my secret weapon for staying out all day and still being able to update Insta-Stories from my phone?! A little extra boost from this handy portable phone charger! Love me the Justin.
Electrical adapters: Make sure you can charge your phone, camera, or computer with the correct plug. Iceland uses the standard European plug with two round prongs. I love my universal adapter because I can take it with me around the world and it has to handy USB ports for extra charging. Each person needs their own adapter!
Medicines/prescriptions: In Iceland, you can't get stuff like ibuprofen or cold medication over the counter. Bring whatever you think you will need.
---
Takeaway: Summer is a great time to visit Iceland. Everything is green and there is plenty of daylight time to explore. When you have the right gear for your trip, it makes it that much easier to enjoy every minute!
Happy planning!

Pin it for later!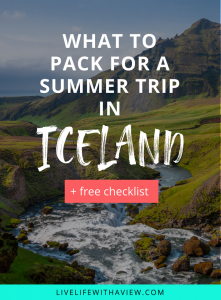 *To help me keep making great videos and posts throughout the year, place your next Amazon order through my affiliate link. It's no extra cost to you and a big help for me to show you new ways of planning the best trip ever!
Get your FREE Summer/Autumn packing list!
Wondering what to pack for your Summer/Autumn trip in Iceland? Don't worry - I got you covered so you don't forget a thing!