You've seen pictures. You've heard stories. The abandoned plane wreck on the desolate Sólheimasandur black sand beach – one of Iceland's biggest tourist attractions.
On November 24, 1973 a United States Navy plane crashed onto the beach in South Iceland. Running into a sudden change of weather, the pilot had to perform an emergency landing – thankfully there was a beach visible nearby. Amazingly, everyone in the plane survived the crash. The U.S. military salvaged the usable pieces and left the rest on the beach. You can read the fascinating story about the crash and the Icelandic land owner here.
This famous plane wreckage was another sight we skipped on our honeymoon trip, so it has been two years since I've been seeing amazing pictures of this plane. When my friend Kristy said she wanted to drive South, I knew we needed to make a stop here. I was SO excited to finally see it!
And then…ONE week before she arrived, the road to access the beach CLOSED to the public.
With good reason, the land owner closed off access due to careless tourists driving off the path and tearing up his land. This means no one is allowed to drive on the beach to the plane. The only way to get there now is to walk – 4km one way.
If you don´t know where you're going, it can be difficult to locate the wreckage, especially now that you have to walk and you do NOT want to be going in the wrong direction.
Read on for directions to the plane location.
The day we stopped for the plane was cold and suuuuper windy. "Jeannie, that sounds like a normal day in Iceland." Correct, but not ideal conditions for walking 4km on a wide open beach.
If you have good weather then this walk won't be bad at all. Just be prepared a long walk that looks like you're on planet Mars walking towards nothing.
As for how to get there: just follow the other people. Since Justin Bieber added the plane to his music video for "I'll Show You" literally everyone is stopping here. In the event that you don't see someone walking before you, it's a straight shot to the plane from the parking area.
The walk to the plane looks like this: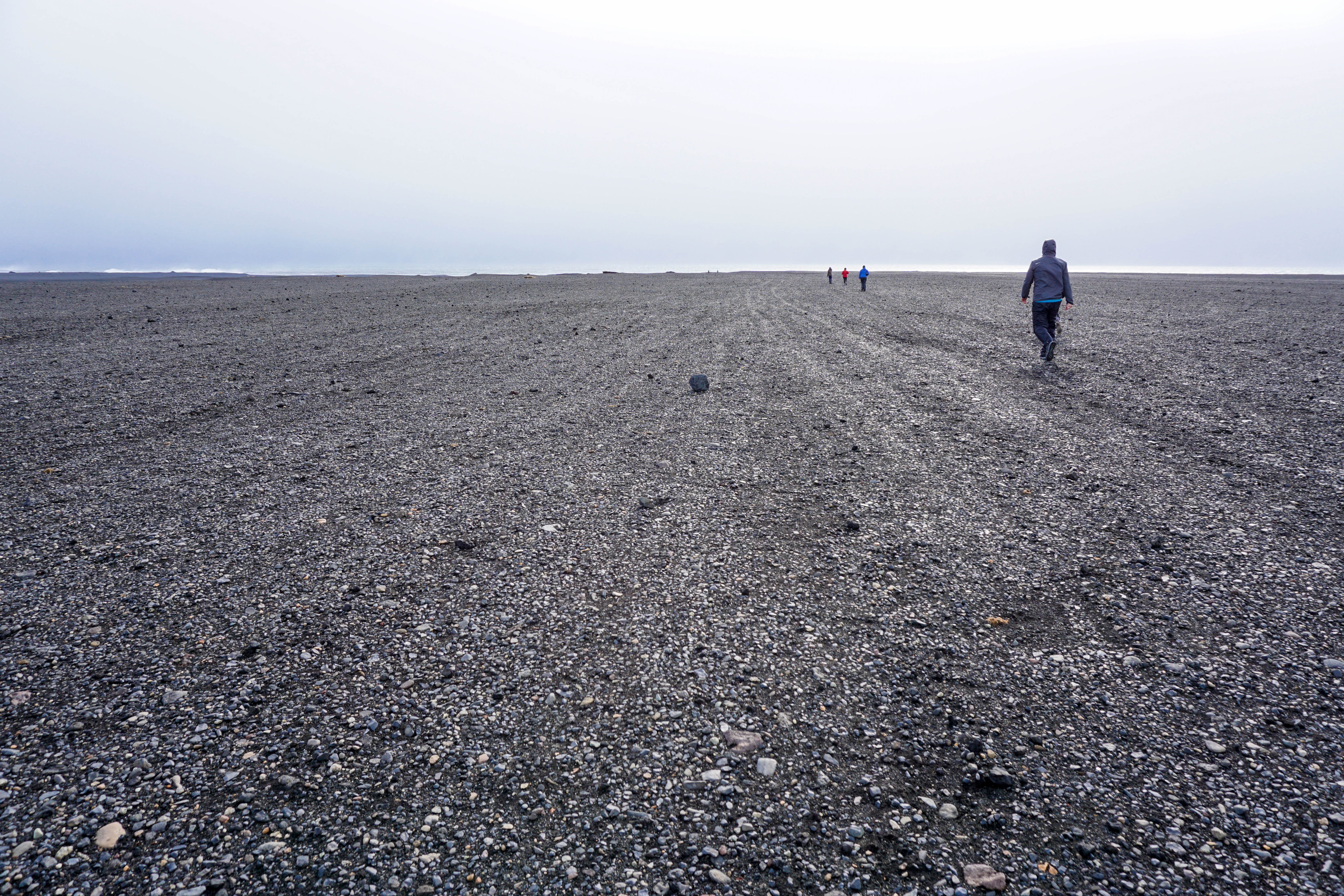 FOR 40 MINUTES.
The wind was coming straight from the East straight into my ear holes. I was seriously wearing two hats! It was brutal. And let me tell you, my travel companions (my husband and Kristy) did not know what they were getting themselves into. I think they would have cared less if they saw a plane wreck on the beach. That was the last input I was allowed to have for the rest of the trip.
So we walked. And we joked about turning back for the vehicle. And then we look back towards the vehicle and realized it's out of sight and we are literally in the middle of nowhere.
We keep walking. Except for it's more like a bent over walk with head forward to try to make your body as aerodynamic as possible.
And then, after you've considered turning around for the tenth time, you finally get a glimpse of it. And you celebrate.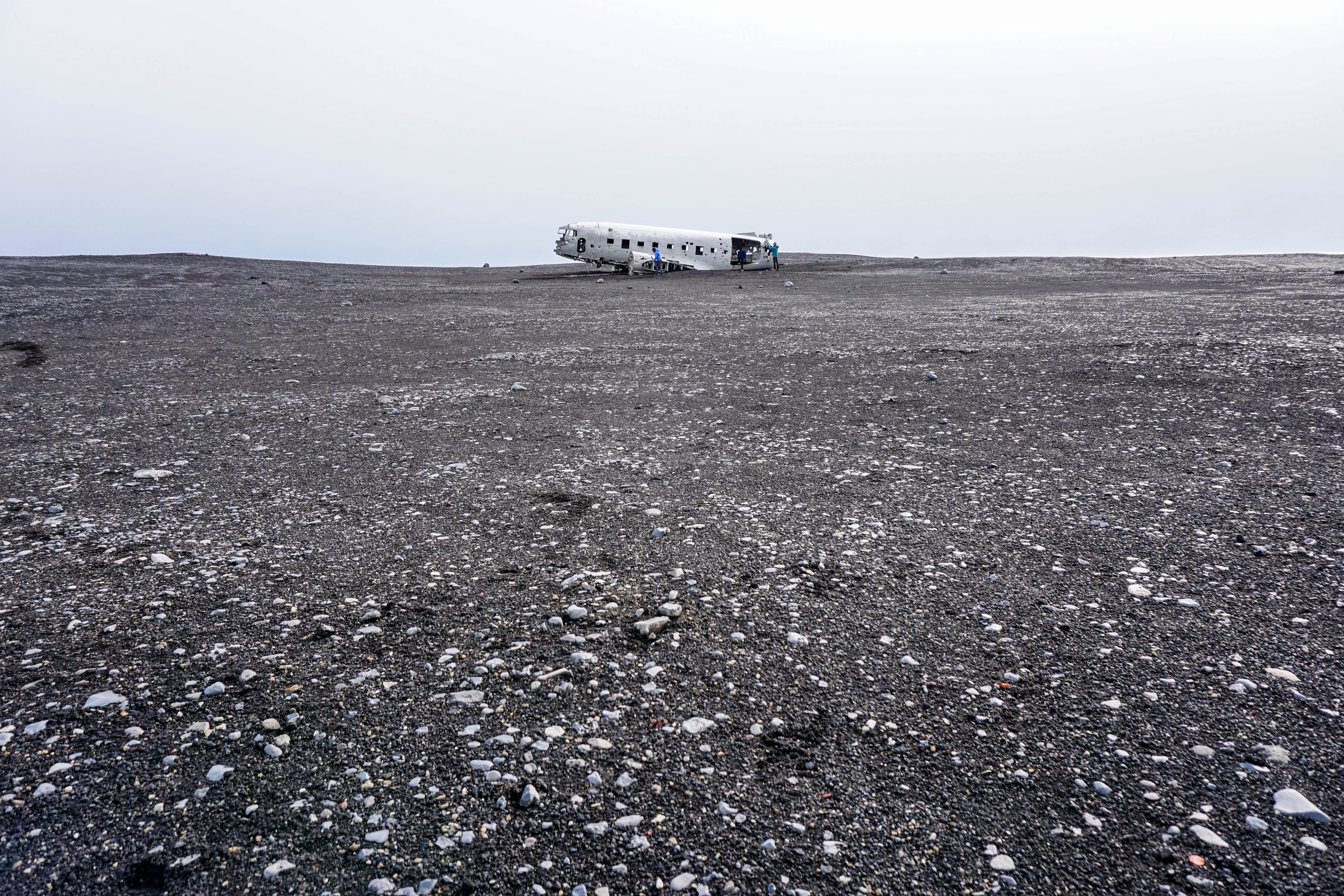 When we finally arrived at the site, the plane was stunning. The wreckage is amazing and slightly eerie.
Because there were SO many people there, it was nearly impossible to get a photo without someone in it.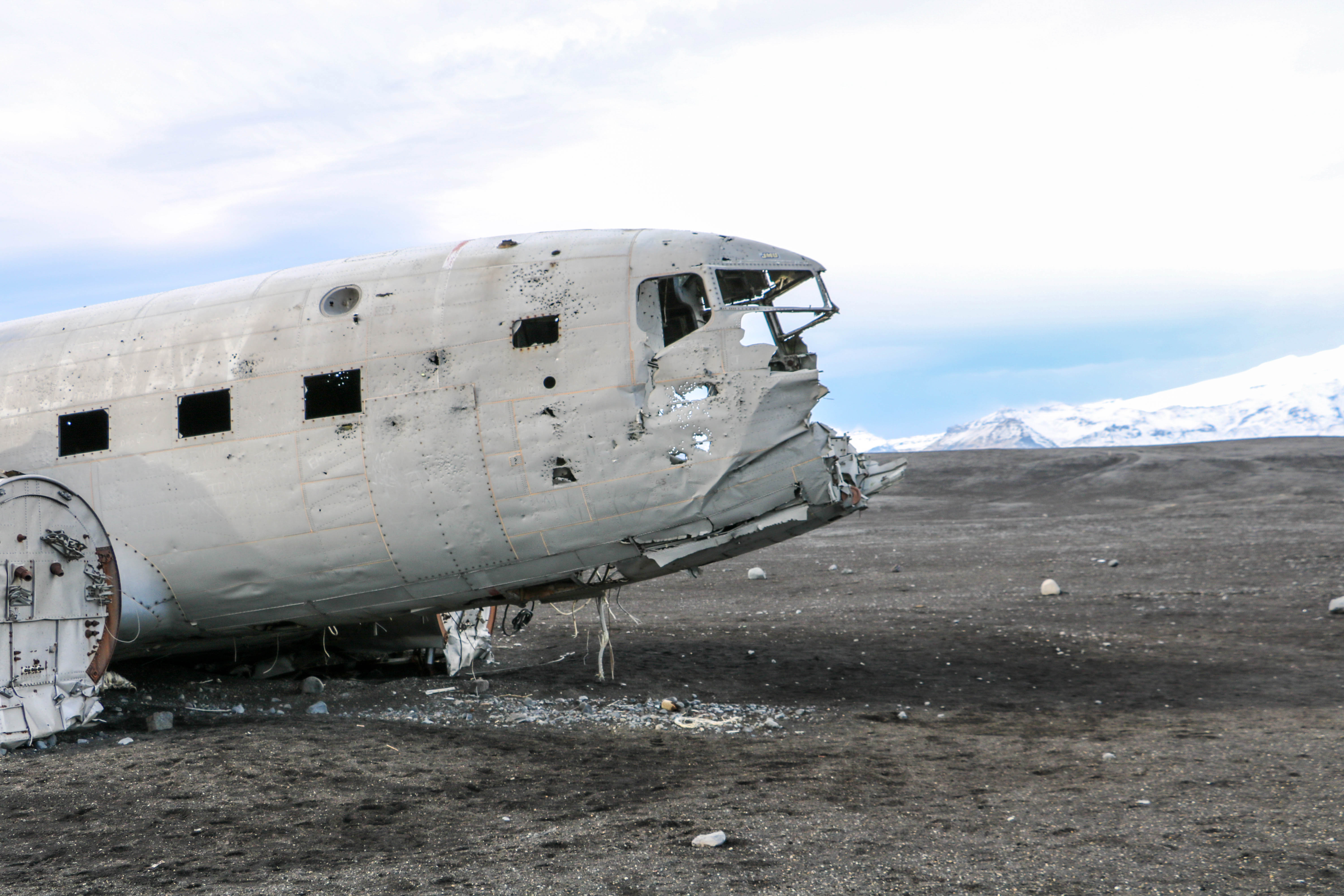 I was just happy to walk inside and all around it. I imagined the passengers on the plane the day it crashed and how relieved they must have been when they landed gently on the beach.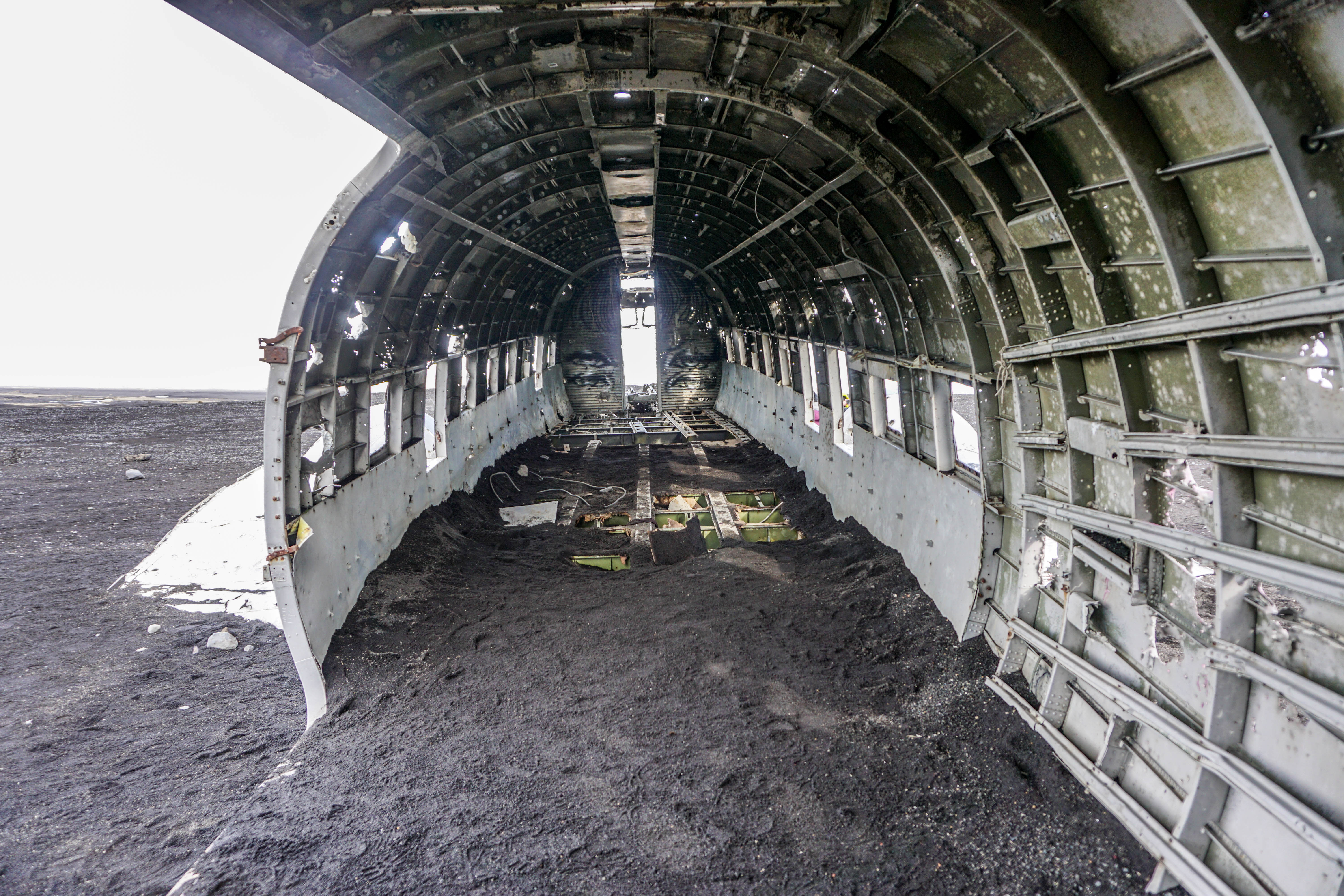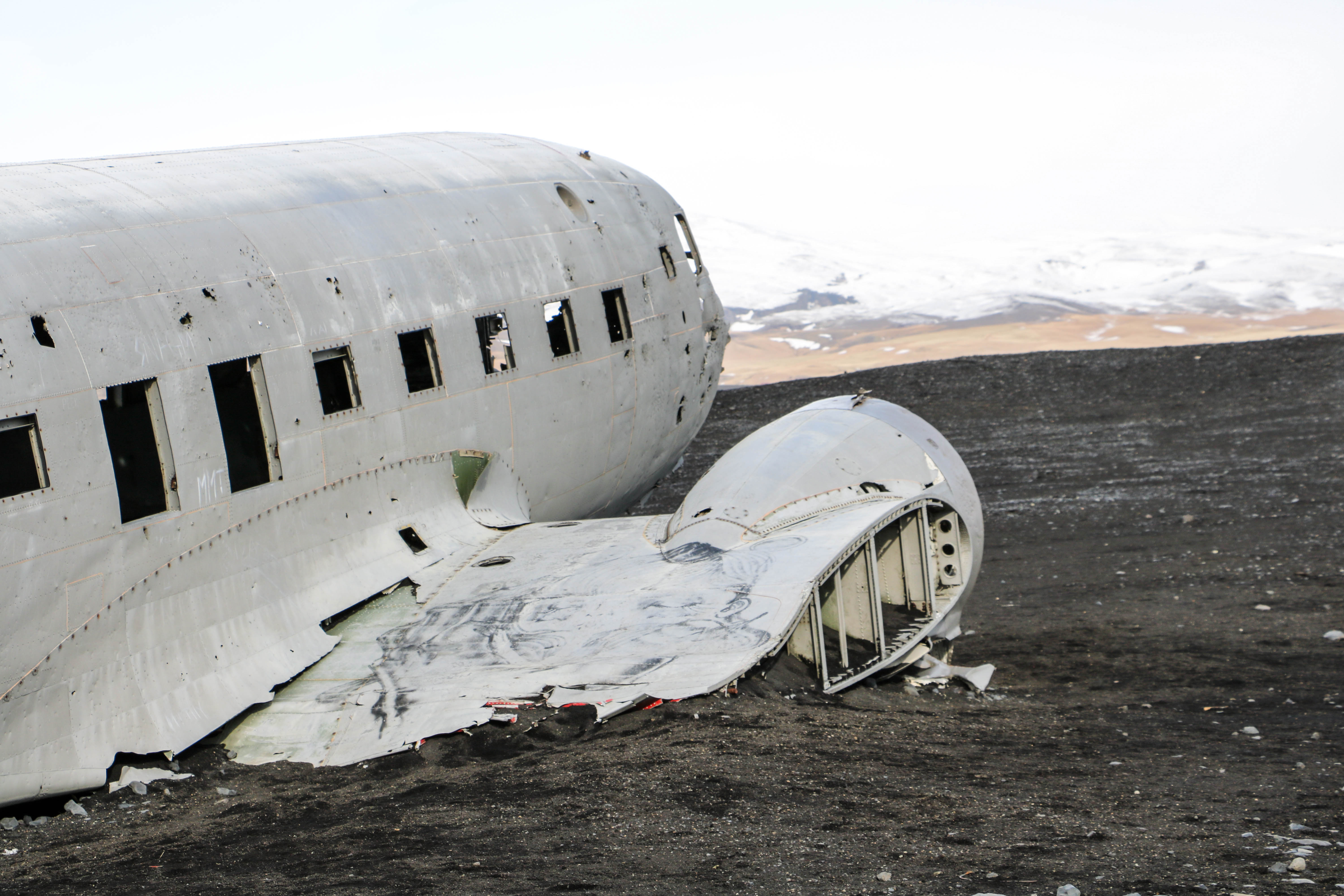 Now there are bullet holes, graffiti, and plenty of footprints where people have walked.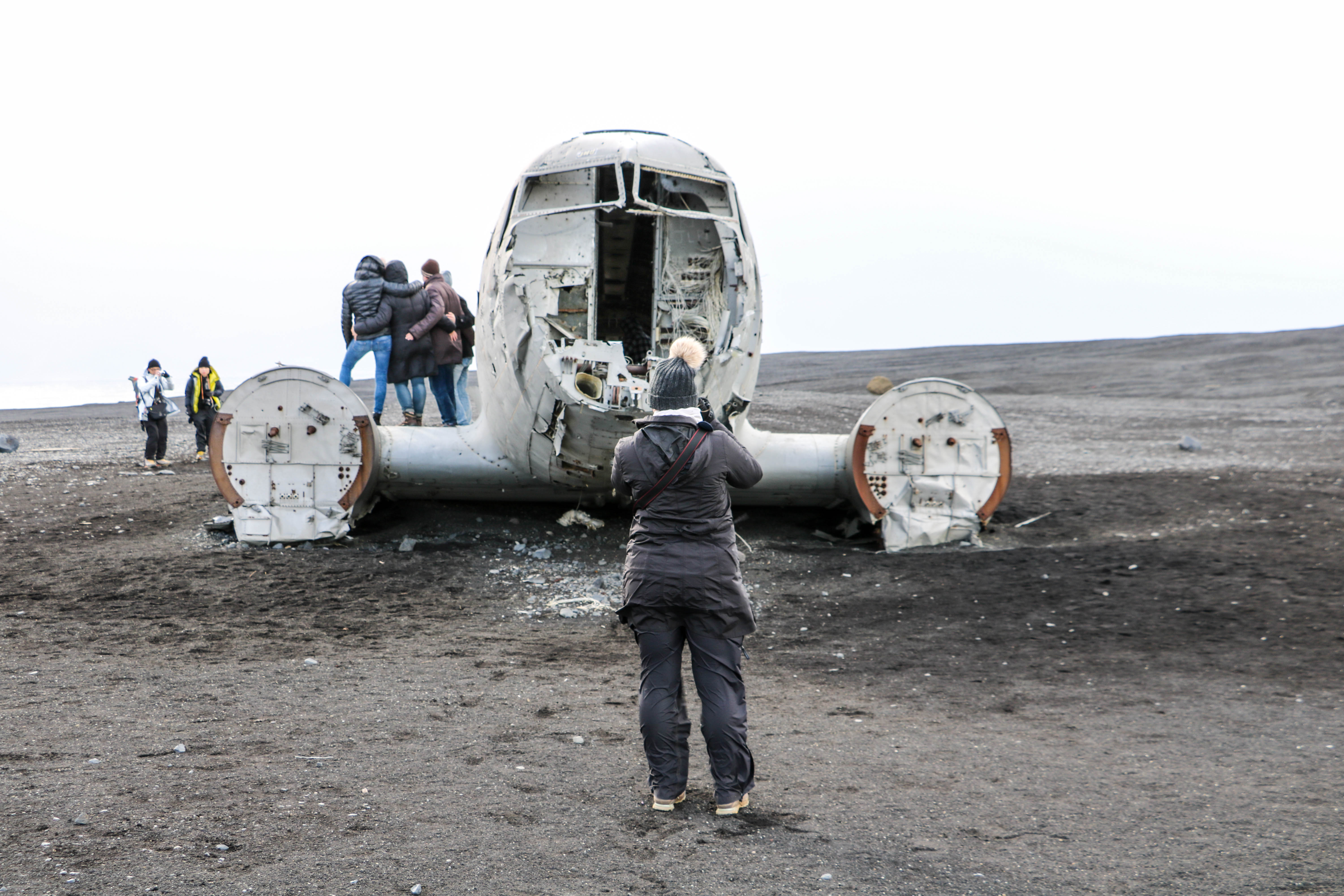 No amount of photos can replace seeing it in person. I'm so glad we took the long journey to see it. And I can say that now, being recovered from the walk and in the warmth of my own home. Would I do the walk again? If I got to see the Northern Lights dancing above, YES.
I just hope they can figure out a way to get the road back open. But until then, it really is an adventure to get there and a good story to tell afterward.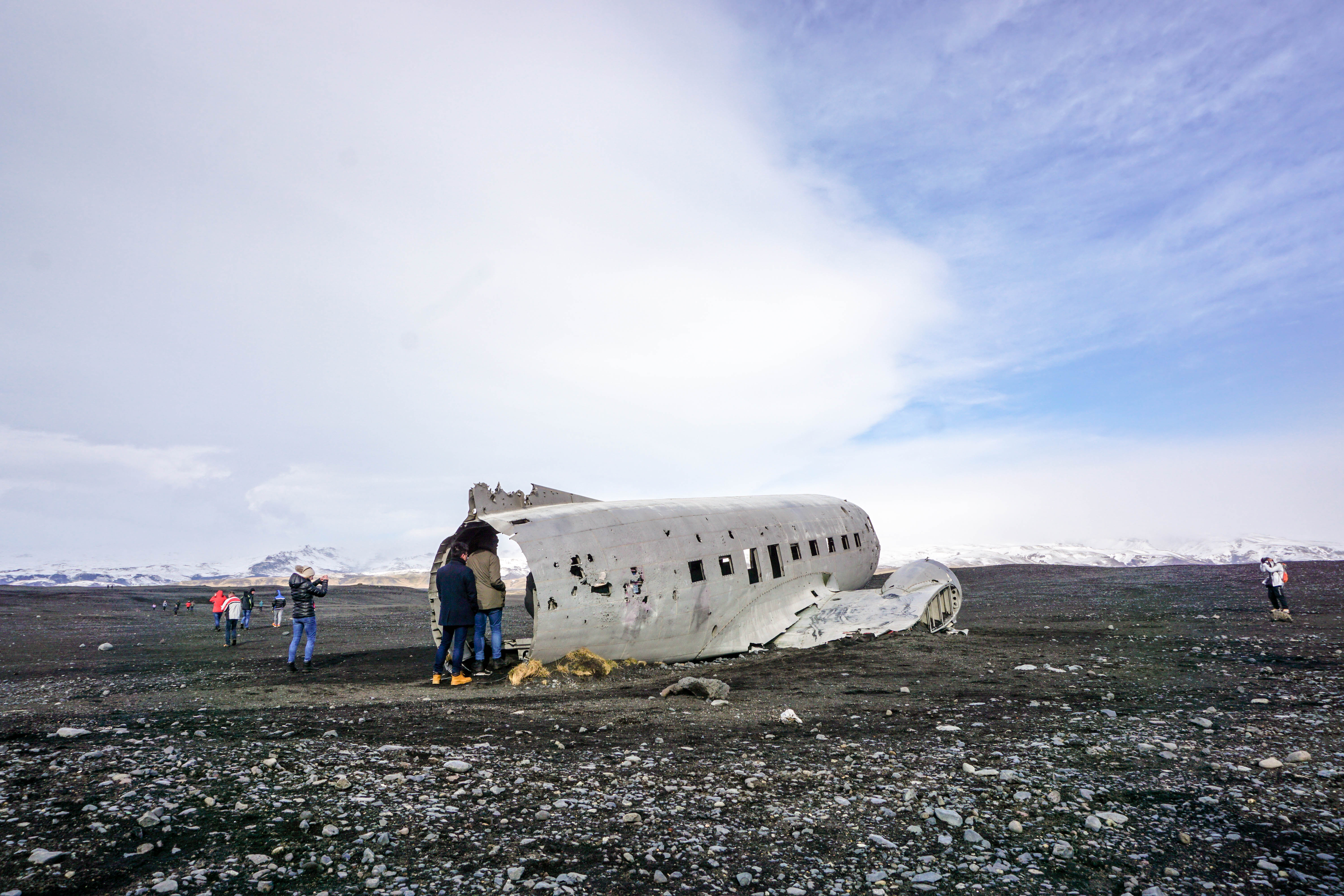 Directions
The Sólheimasandur airplane wreckage is located on the South coast between Skógafoss and Vík.
(If coming from West to East) After Skógafoss going East on Route 1, you will cross a bridge and see a turnoff for Sólheimajökull on your left.
Keep driving for about 2 kilometers and keep your eyes open for a small turnoff with a gate on your right. (It will be the only opening in the fence after the bridge. If you cross a 2nd bridge, you've gone too far.)
There will be "parking area" most likely with several other vehicles. You will see that the fence to access the beach is chained off with a "Lokad" sign.
Get out of your vehicle and start walking towards the ocean. You will be walking for about 40 minutes before you will see the plane. You might consider turning back several times.
KEEP WALKING.
You won't spot the wreckage until the last minute because it's hidden behind a sand dune near the edge of the ocean.
GPS coordinates to the turnoff/parking lot
63.4912391,-19.3632810
GPS coordinates to the plane
63.459523,-19.364618
FYI – before your journey
Comfortable walking shoes – I can't stress this enough. You are going for a LONG walk on a pebble beach. I saw some people wearing Uggs and I don't even want to think about the blister situation after they were done.
Hat, gloves, scarf. Standard, but you don't want to be exposed to wind on this long walk!
Wind/waterproof gear – top and bottom.
Headphones to catch up on a podcast or ebook for the walk there and back. Ha, I wish I would have done this!
Bring a snack and water. Ok, you might think I am joking, but seriously this was a 2 1/2 hour deal for us! Give or take based on your walking speed, but it was SO windy we literally couldn't have walked any faster. Don't let hanger happen to you (i.e. me), put a granola bar in your pocket.
Make sure your camera is fully charged or you have a spare battery. The worst thing would be to walk all the way out there and not have any photo proof!
Pin it for later!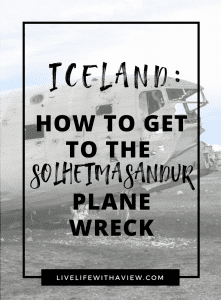 ---
Question: Will you still plan on seeing the plane even with the long walk?