Silfra is a fissure between the North American and Eurasian continental plates, and one of the most popular reasons that people travel to Iceland. The chance to dive or snorkel between two continental places is one of the most unique things about Iceland, and the only place in the world where you can do it!
The visibility underwater is over 100 meters, which means it's one of the clearest water on the planet! The water is near freezing year round, as it comes from the nearby Langjökull glacier. (2°C / 35°F – 4°C / 39°F)
Conveniently located on the Golden Circle route, this is a must add to your Iceland itinerary!
Right now you might be thinking, "wow Jeannie, this sounds like the coolest thing ever! Why haven't you done it?" We all have our phobias right? Mine includes being underwater and in small spaces…i.e. Silfra. Basically I am not trying to put myself in a place that I can't escape quickly. And if I were between two tectonic plates I would likely have this irrational fear that the Earth would suddenly close up those plates and I would die.
So I'm leaving it to my good friend Kristy who is a certified diver and traveler extraordinaire to tell you all about her experience! I was lucky to spend a full week with her during her visit in March – we did so much exploring! She is also a video and photography ninja, so make sure to check out her YouTube channel and Instagram account for more travel inspiration!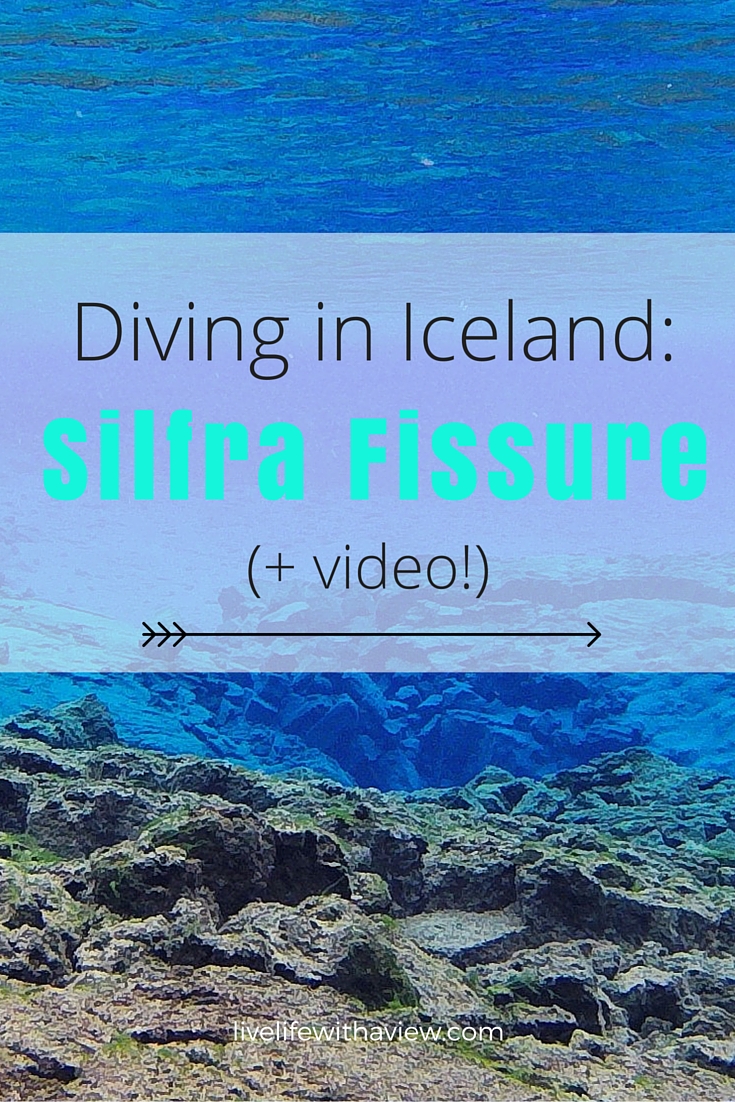 Hi! My name is Kristy. I like dogs, chocolate, and traveling. I also like long walks on the beach and a cuddling up in a warm blanket to watch a movie. Oh…this isn't a dating website? Whoops. Habit, I guess.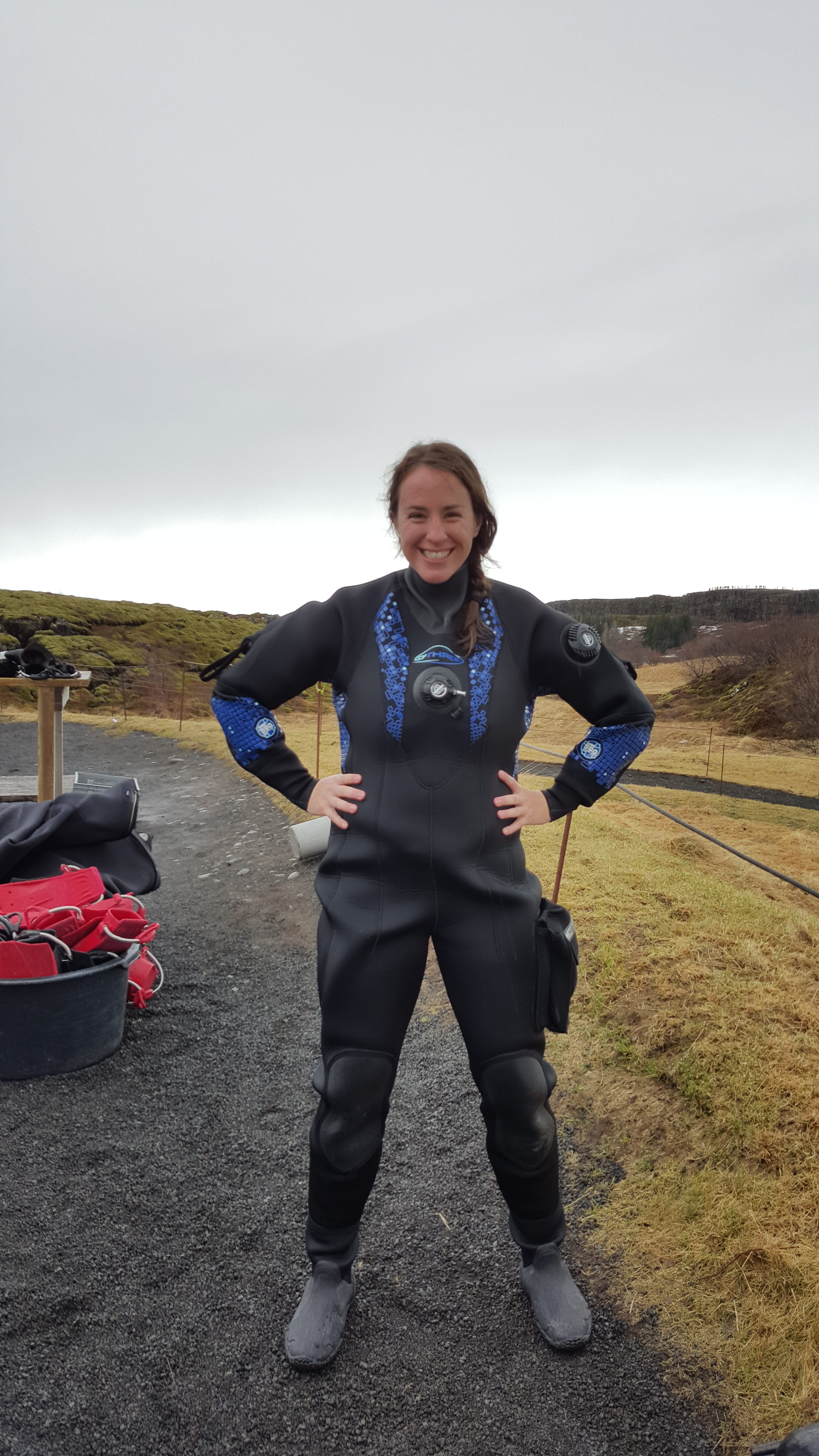 Why I went to Iceland
I LOVE TRAVELING. It is my absolute favorite thing. I have been fortunate enough to travel to many wonderful places and when the opportunity to visit Iceland came along (to visit Jeannie of course!) I had to take advantage of it. I had heard Iceland is an absolutely stunning place, and anyone that loves nature will fall in love with the country. This proved very true. One of the things I was most looking forward to was diving in Silfra! The chance to go swimming between two tectonic plates is one that should not be passed up.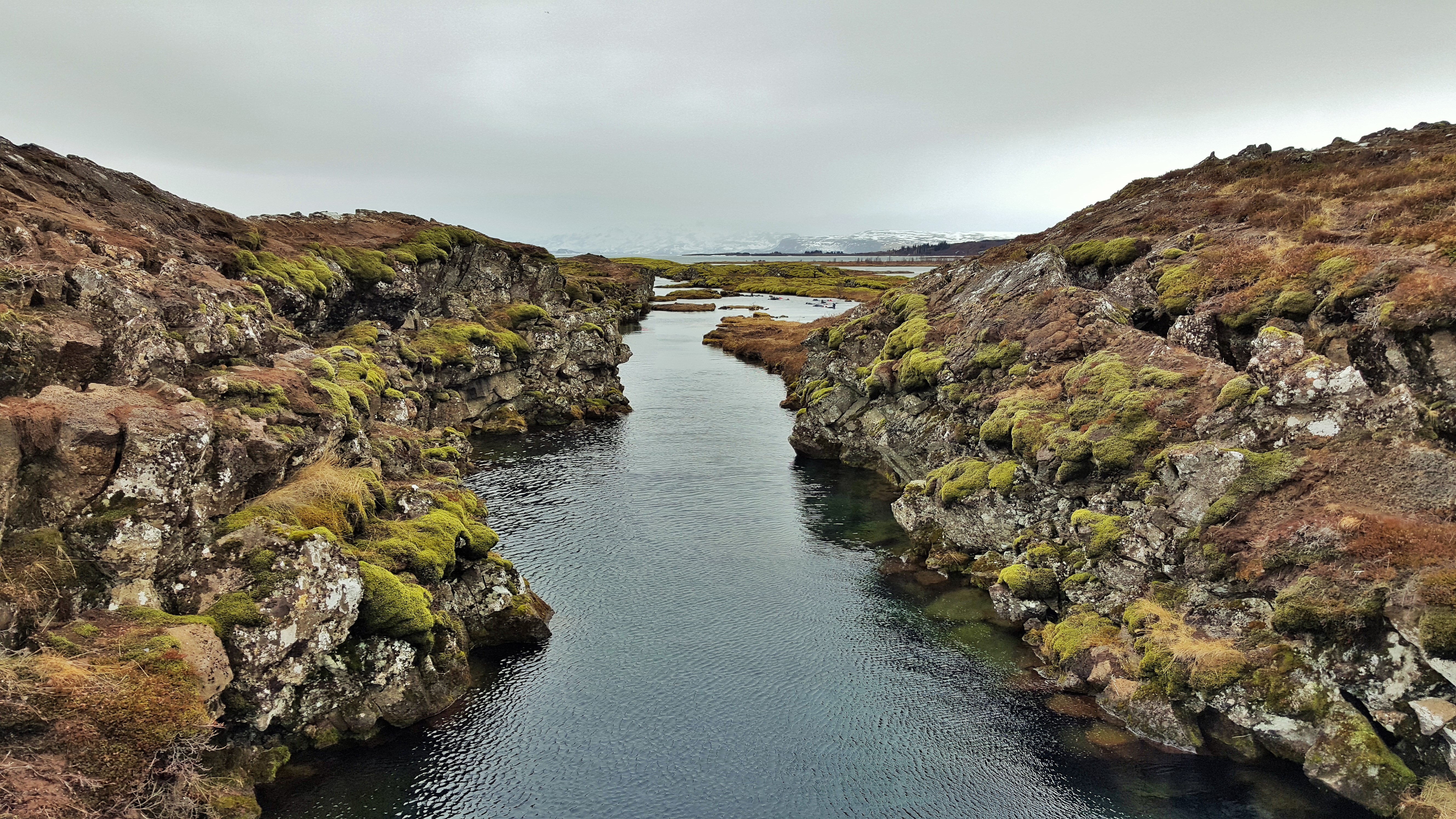 Dive or Snorkel?
So you are thinking about visiting Silfra, huh? But you cannot decide if a) you should get in that freezing cold water in the first place or b) if you should snorkel or dive. Here are a couple different scenarios and my recommendation:
You do not like being in water and/or you hate the cold: just view Silfra from land. No need to actually get in if you are going to be miserable the whole time.
You have never been scuba diving: snorkel! It will still be a great experience.
You have been diving a few times but are not very comfortable with it: snorkel. You need to be certified to go scuba diving in Silfra and should definitely be confident in the basics.
You are a competent diver with some experience, but have never done a drysuit dive before: this is where I was at, and is a tough decision. Read about my experience below to help you decide.
You are a pro with a lot of diving experience: scuba dive. This will be a walk in the park for you and you can laugh as the rest of us struggle.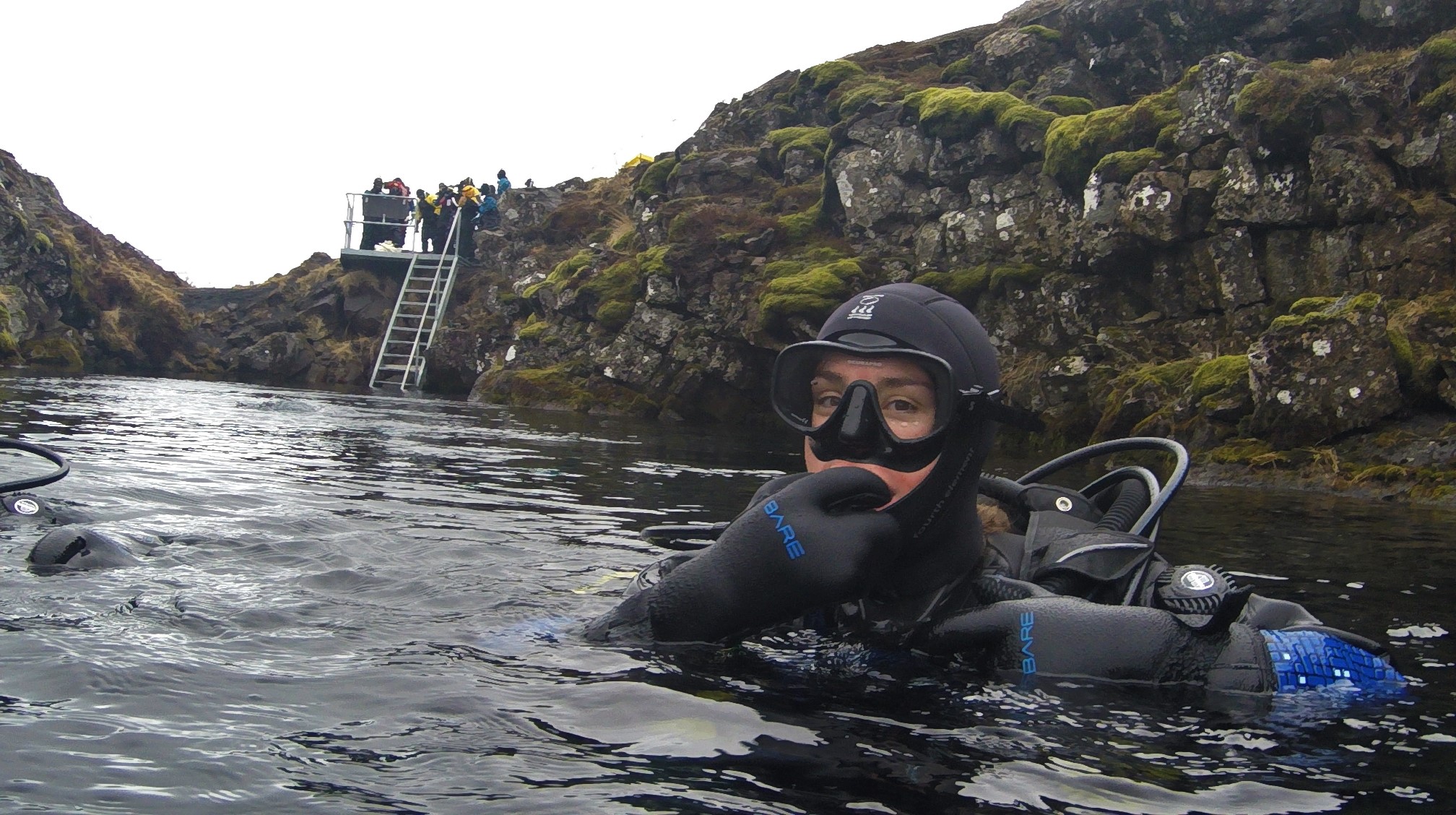 My scuba background
I got my PADI open water certification about 13 years ago, but I do not dive frequently. I've done a few dives every couple of years on a tropical vacation (Belize, Mexico, Cayman Islands, etc). I am far from being a professional diver, but am very comfortable in tropical water with either a shorty wetsuit or just my swimsuit. Before Silfra, I had never been in a drysuit.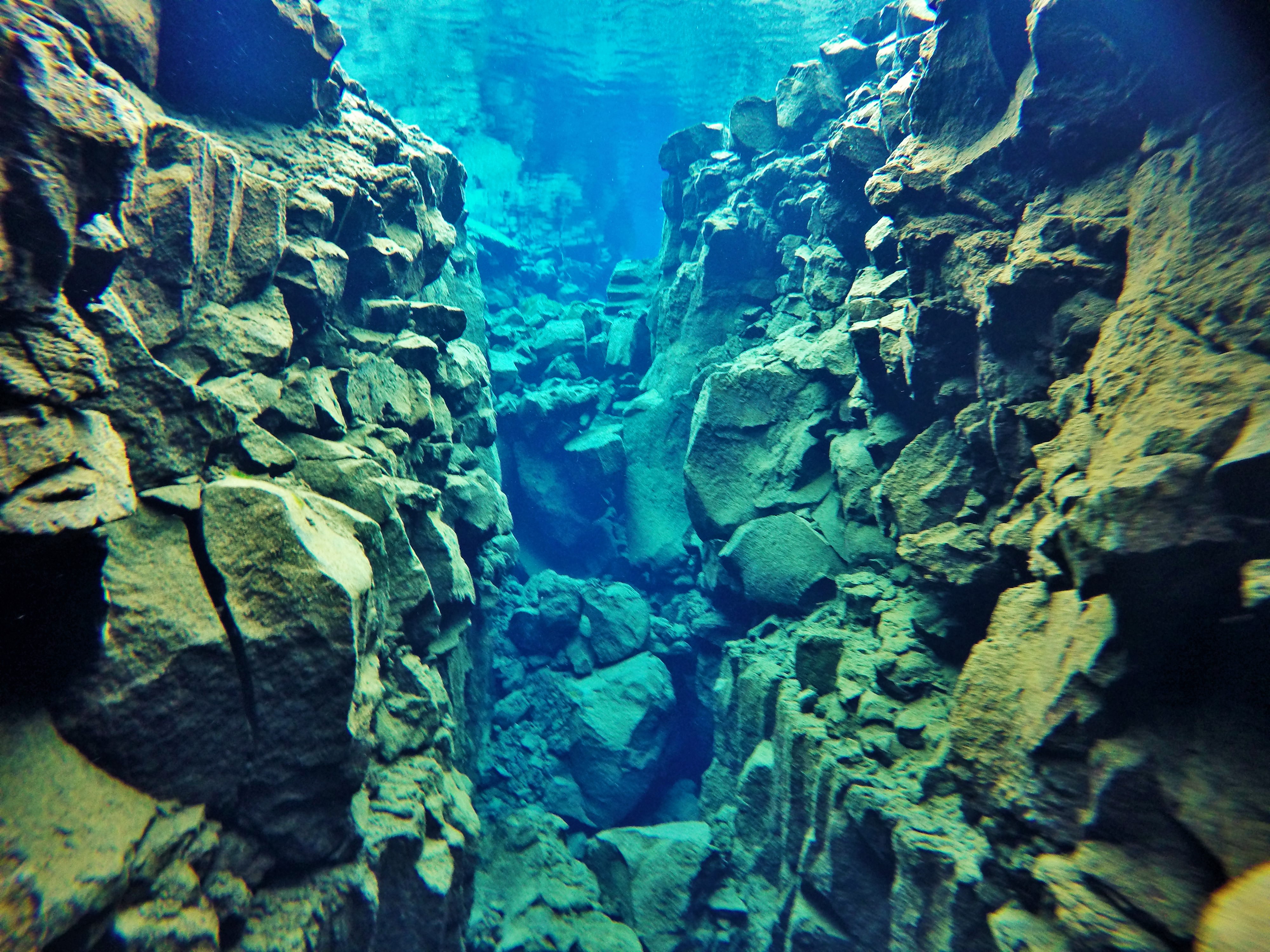 My Silfra/drysuit experience
I chose a full day excursion with Arctic Adventures. Our group had 4 other divers and 2 experienced guides. I packed a snack, warm socks, and was wearing thermal long underwear. We started at the tour office in downtown Reykjavik and transported to another facility at the edge of the city where we were fitted for our dry suits. We loaded all of our stuff in the van and headed out for Þingvellir national park – a beautiful drive!
The weather that day was cold and windy (strange for Iceland, right?!) When we got out of the van, there were numerous other tour groups already there, both snorkelers and divers. We put on our drysuits which was quite a process including lubing up our wrists and neck to squeeze in.
You know the drysuit fits well when your neck is choking you just a wee bit. We put on the rest of our gear including gloves, tanks, weights, etc (about 70lbs worth) and walked over to the entrance.
Unfortunately for us, there was a large group of snorkelers in the process of getting in so we had to wait about 10 minutes. This would not have been difficult except for the fact that we were all humpbacks with the tanks on our back, which got heavy pretty quickly. We finally got in the water and it was sweet, sweet relief. It was cold, but the water took the load off our backs (quite literally) so, I was very thankful!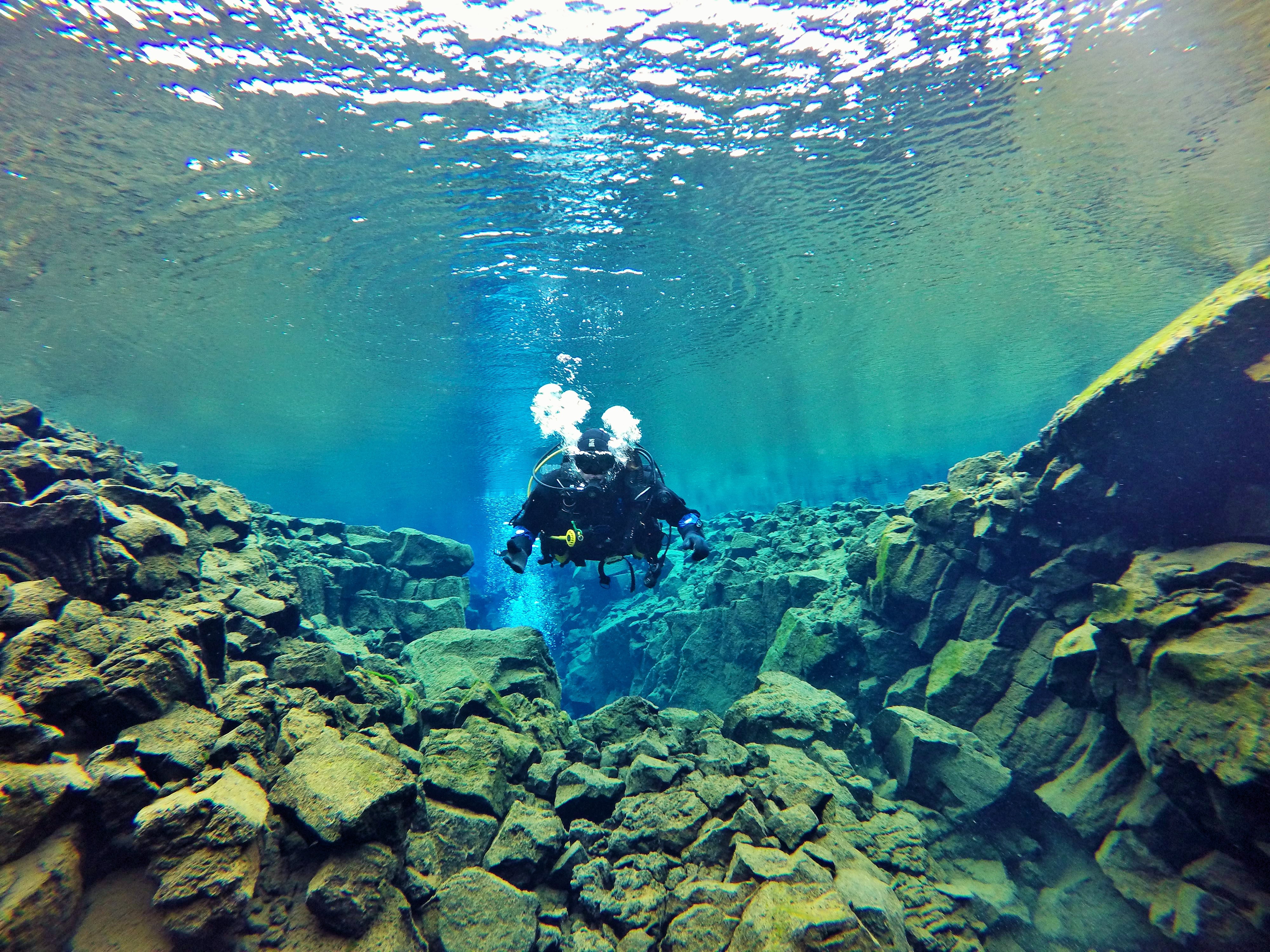 For most companies in Iceland, you will get to do 2 dives (weather and sunlight dependent). This is very nice because, for most people, the first dive will give you the opportunity to figure out what the heck you are doing and how to deal with the drysuit chaos.
I did not even bother bringing my camera with me on the first dive since I knew I would be too focused on not dying.
But Kristy, I thought you said you were a decent diver? Yes…but NOT in a drysuit!
Kristy, why is it so hard? One word: buoyancy. I am not going to get into the physics of it, just know that the drysuit makes it much more difficult to control your buoyancy so can be difficult to maintain a neutral position in the water. Fortunately, Silfra is shallow enough where you can practice maintaining good buoyancy without having to worry about sinking into a dark abyss or shooting up 80 feet to the surface/your death.
During the first dive I was an absolute mess. I didn't even notice that my lips were completely numb because I was too concerned with my buoyancy. One minute I was sinking to the bottom and the next I was rocketing to the surface. I felt like an amateur. But, I was not alone. Most of the other divers had the same problem as me and were bouncing up and down like ping pong balls. As I got deeper, the drysuit started squeezing my body so, to balance this, you are supposed to add air with the "Iron Man button" on your chest (see photo above for reference). But if you add too much air, you might start rising to the surface. It was a constant balancing act. Towards the end of the dive, I felt slightly more comfortable.
We had to walk between 400-800 meters to get back to the van (loads of fun! Get it…loads? Because we had loads of stuff to carry back. See what I did there?!) That was a bit painful, but we were able to enjoy some hot chocolate back at the van which was fantastic. We hung out in the chilly air before preparing for our next dive.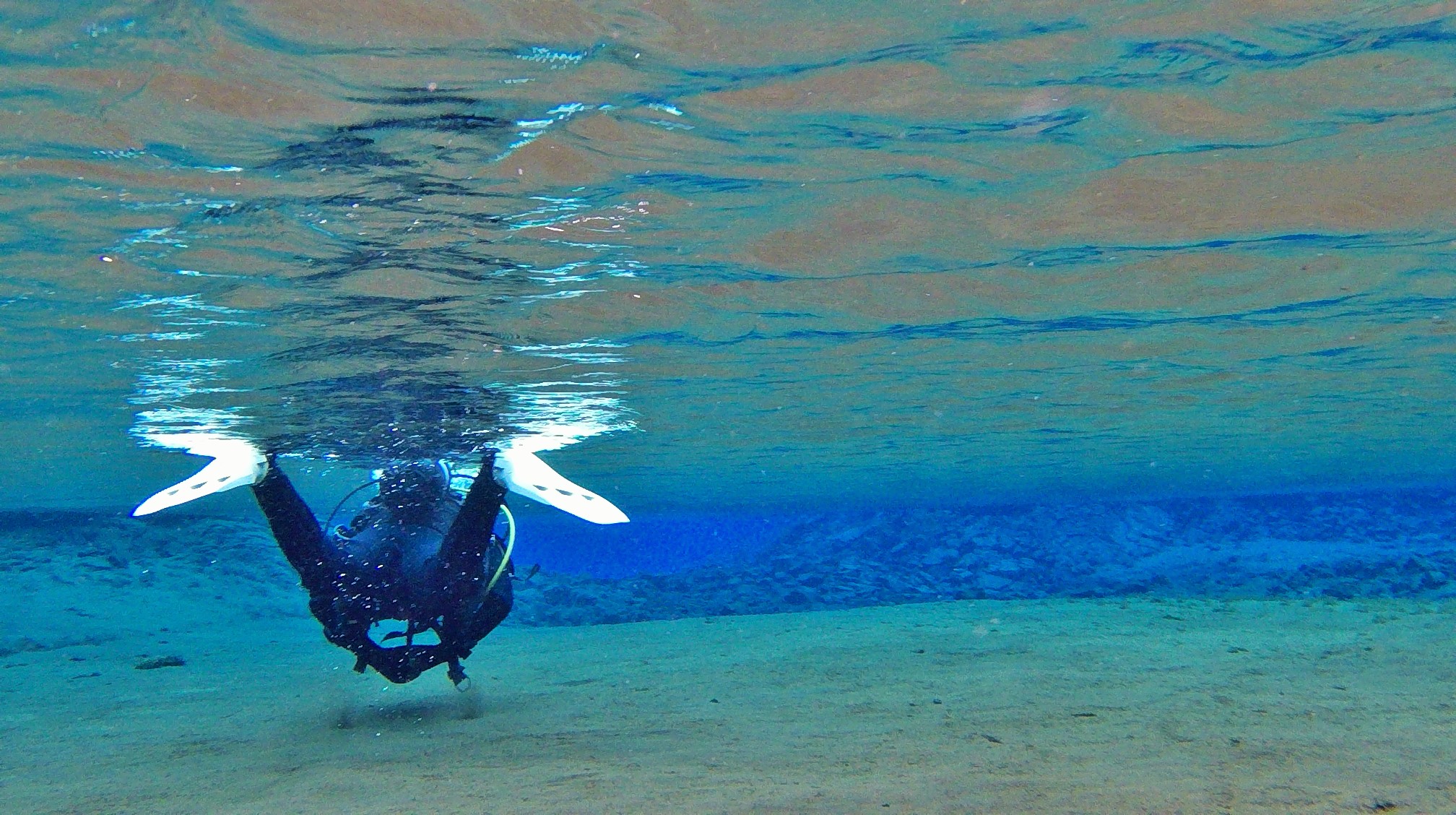 The second dive was a little easier to maintain neutral buoyancy, but still a challenge. I definitely enjoyed round two more as I was feeling more comfortable. I brought my GoPro this time around and attempted to capture the crystal clear beautify of Silfra. The guide was even able to take a picture and some video of me touching the North American and Eurasian plates in the stunning blue water. How many people have done that?? Something to think about!
Summary
If diving is not your forte, then consider snorkeling. I have heard snorkeling Silfra is also a great experience which will allow you to appreciate the beauty of Silfra without the hassle of diving. You still have to wear a drysuit but your goal is to stay on the surface, so being buoyant is a good thing.
If you are looking for an easy or "comfortable" experience, I would not recommend diving in Silfra. But if you are patient, willing to learn and want to do something very unique, then do it! It is quite the adventure and one I will never forget.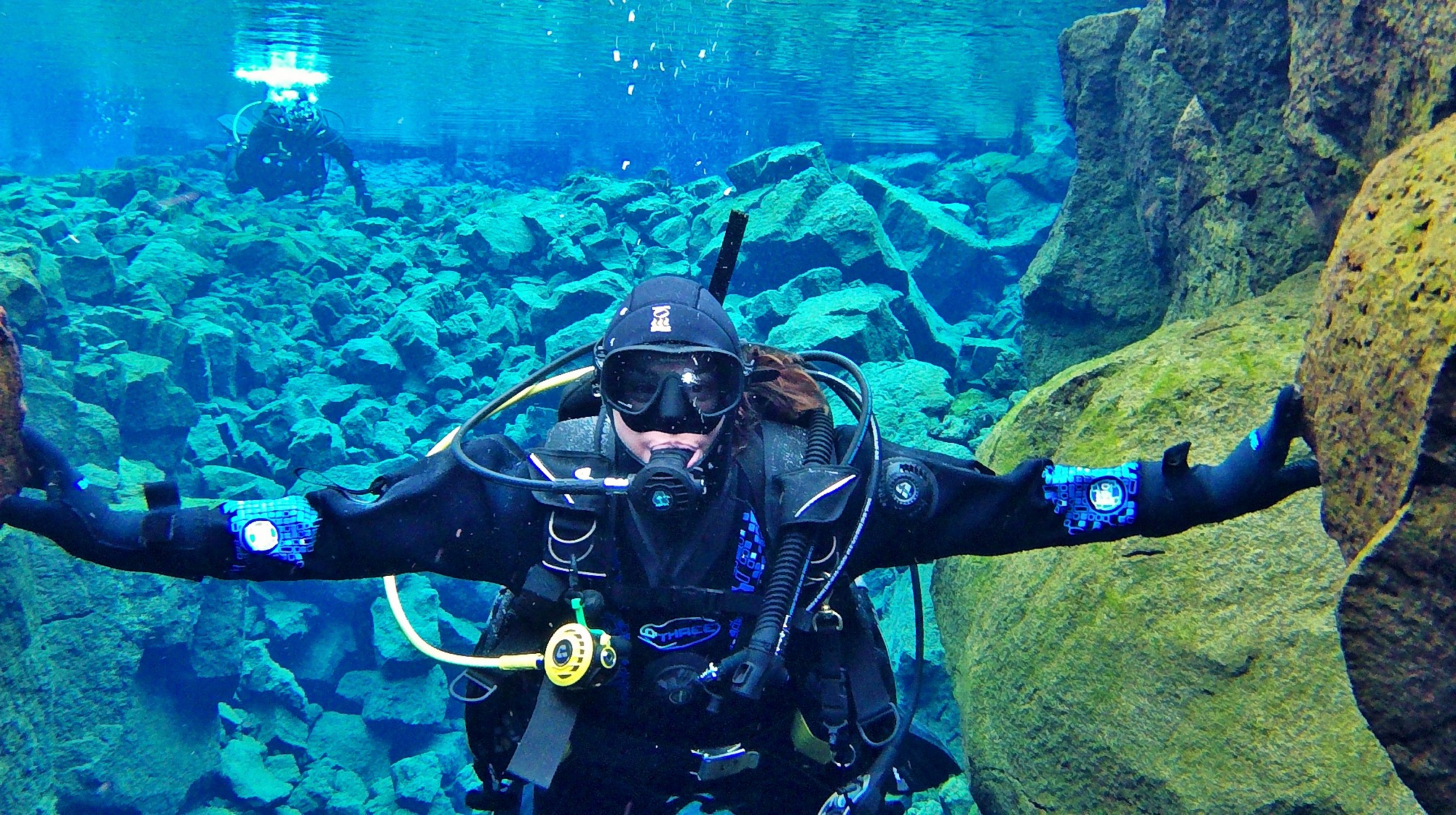 Tips for dive/snorkel Silfra
Bring a pair of gloves/hat that can get wet between dives
Consider bringing a small towel for your hair
Make sure camera battery is fully charged- the 2°C water will drain the battery quickly
Bring a snack for in between dives or the journey back to Reyjavik
Consider booking early, especially in the summer months
Go to the bathroom before putting on the drysuit. Do not pee in a drysuit! I know some people who will relieve themselves in a wet suit, but if you urinate in a drysuit you will essentially have wet your pants and have to deal with it until you are able to change all of your clothes
Try to stay relaxed and have fun
About the tour
---
Question: Are you considering Silfra? Dive or snorkel?!
https://www.youtube.com/watch?v=3PEIUBVIDH4