Get your hearts ready, my friends, because I'm about to share one of the best kept secrets on the south coast.
Hello Team Iceland, welcome back to my channel. My name is Jeannie, and I'm here to help you plan the best. Trip. Ever., to Iceland!
Today I am so excited to share with you another edition of "Jeannie – On Location". So along the south coast of Iceland, between Seljalandsfoss and Vik, is a little village called Hvolsvöllur. Now you might otherwise drive right by this little place without blinking, but not anymore, friends. After this video, I can promise, you'll have another place to add to your itinerary.
I'm ON LOCATION!
So, the place is called Midgard Basecamp, and it is accommodation, restaurant, bar, chill out place, and tour operator all in one. What else would you need? During this video, I'm going to be talking to you all about the Þórsmörk Super Jeep Tour, and spoiler alert, it's amazing!!
What to expect:
So, the day begins with a debrief about what to except, as far as the stops, safety, and of course your chance to ask any questions. We all pile in to the biggest SUV that you've ever seen, and start on our way. Now, I'm thinking that we're just going to drive right into Þórsmörk, but no! We're stopping at a secret location along the way, and a place that only certain people in Iceland have access to, which is such a nice part of taking a tour, by the way.
Also note the small group size. So within this Super Jeep, the tour guide is telling us about things along the south coast, and Icelandic culture, and all of this fun stuff, which is the really nice thing about taking such a small group tour.
Okay, so now on to driving into Þórsmörk. Now, you guys have probably seen my Highlands series where I've already talked all about Þórsmörk, which is one of the most beautiful places in the whole country. I've already been to Þórsmörk a couple of times, but never with snow. And this is like a totally different setting. It's so beautiful. I love mountains! I love glaciers! I love Iceland! I love snow! All of the things that I love, all in one. So Þórsmörk is looking particularly beautiful today.
On the way, we can just stop at a couple of locations to grab some photos, and hello, the weather was amazing that day. One of those really rare days in Iceland where there's not a lot of wind, the sky is blue, you're just like, "What's going on?" But I'll take it!
As we're driving into Þórsmörk …
So we stop at Volcano Huts to grab a bite to eat. Now it was possible for us to purchase the lunch at Volcano Huts, but we had brought our own lunch with us, so either way. After lunch, it's time to explore a little bit, so we went out for a hike. Now which hiking trail, obviously is subject to the conditions of that year, but because of our group and time, we choose to hike from Volcano Huts to Langidalur, which is a pretty nice jaunt. Not too far, but remember we're in the snow, so it's making it just a bit challenging. Either way, it was so beautiful out there. Not only was the weather perfect, but the scenery in Þórsmörk is unbelievable, and Þórsmörk is one of those places that not everyone can get to. It's closed for half of the year. You need a very particular vehicle to get there, so taking this tour allows you to bypass both of those situations, right? It's so nice to be in this situation, you're with a nice tour guide that keeps you safe, and you can get where you need to go, and experience something that's so unique and just not everyone gets a chance to.
Each tour is UNIQUE!
So after several hours, I'm talking like this is a full day thing. After several hours, we start heading out off Þórsmörk, with one more very, very important stop at Stakkholtsgjá, which is, I don't know, some kind of gorge, canyon out of a dream? This is literally Game of Thrones material. It's so beautiful back there, and this canyon just goes back and just keeps going, and you can walk and there's this river, and there's snow, and the birds, and what? You're just like, "This is a dream land," so cool.
I do want to point out, you guys though, that each tour can be different, right? So these were our stops, but your tour could be different. It all just depends on the time of year, and where the guide feels like going that day, and maybe accessibility and what's safe to get to, so every tour can be unique. That's kind of cool as well, though.
Now, on the drive home, Bjarni sang to us!
(singing in Icelandic)
I am so honored to be able to experience this. You guys know he's famous in Iceland, right? Thank you Bjarni.
Okay, after this big, huge, amazing adventure filled day, it is time for a delicious beer. You know what I'm saying? So back at the Basecamp, Midgard has a bar and restaurant right on sight. And lots and lots of cozy places to just sit and curl up and decompress and let your muscles relax, and just take in what was that whole day, you know? By the way, we had a delicious dinner there. They have this burger, and it's really, really good. You know when just you're so hungry, and then you have the exact thing that you would want to have after a long day of hiking? That's that.
And then, to top it all off, a hot tub on the roof with the best view. What? What? Sometimes you just literally have to think, in Iceland, like, "What is life?" This is one of those situations, because this is my definition of a perfect day, by the way. It's just amazing.
Make it your own:
Now Midgard has several tour offerings throughout the year, but I think it's important to note their winter excursions, in particular. Winter in Iceland is difficult enough for traveling as it is, right? And having a trusted tour company that, not only runs day trips, but is also a place to eat, drink, and sleep, is a huge bonus. Now we did the whole thing, right? We did everything that they have, but you don't have to do everything. The thing to note is, you can just do one thing, or a couple of things, right? That's what is so nice about this place. But hey, you don't have to take it from me. Take it from Björg.
"For me, this is such a privilege, to live here. To have a back yard like Thorsmork, and Seljalandsfoss. Being in close connection to it, and having this access to it. And the closeness to everything, we are the perfect Basecamp to go wherever, into the Highlands, along the south coast. If you start the tour from here, it only takes you 10, 15 minutes to arrive at the first big spot, so to speak, so you might manage the crowds and be ahead of them, so that's actually quite a nice part.
People come in the morning, during the tour they get free coffee, free toilet, and they join the tour and then they come back, and during some of this, the place is just filled with life. The nice thing, also, is of course that this is basically our family. The family feeling is maybe, what people get when they come in here. I think that, for all of us, it's like this huge interest in Iceland, and the love for the country. We like showing people what we love, showing the glint in people's eyes when they see what we are showing them, and then leaving them a little bit changed from when they came. It's in our hearts, and I think that is what makes Midgard special."
Something for everyone:
A couple of final pieces for you guys about Midgard. There are bunk and private accommodations available, so if you have a group of people, or if you don't mind staying with other people, maybe you're on a budget, then the bunks would be nice. But if you want your private accommodation, private bathroom, then that's also available.
Midgard Adventure offers so many different tours. They have cycling tours, hiking tours, day tours, multi-day tours, private tours, guided group tours, all of the tours, right? So if you're in that south Iceland area, definitely check them out, because it's such a nice way to add something to your itinerary to give you this unique experience in Iceland.
Make your reservations in advance. This place is getting popular. They've been around for a while, but they've just beefed up their offerings, and so especially in the summer this is the place to be.
Lastly, thank you so much to Midgard for having me and my husband, and I look forward to having it as my home away from the city for future road trips.
As always, with gratitude:
Thank you guys, so much for hanging out with me today, and watching this video. I am so, so happy to be able to bring these tours and excursions and places to you that are off the beaten path, that aren't the big places that everyone goes, because I think that's so important in making your trip unique.
So, I hope you love this video and found it helpful. I'll see you next week for another Iceland video, but until then, happy planning.
Happy planning!

DISCLOSURE: Thank you for trusting me with my opinion on any future purchase you may make. I always disclose affiliate or sponsored information when applicable. As a part of Team Iceland, you allow me to earn a small commission if you make a purchase through my affiliate/referral links. This doesn't cost extra for you, but helps me to continue this channel. Thank you for your support!
Pin it for later!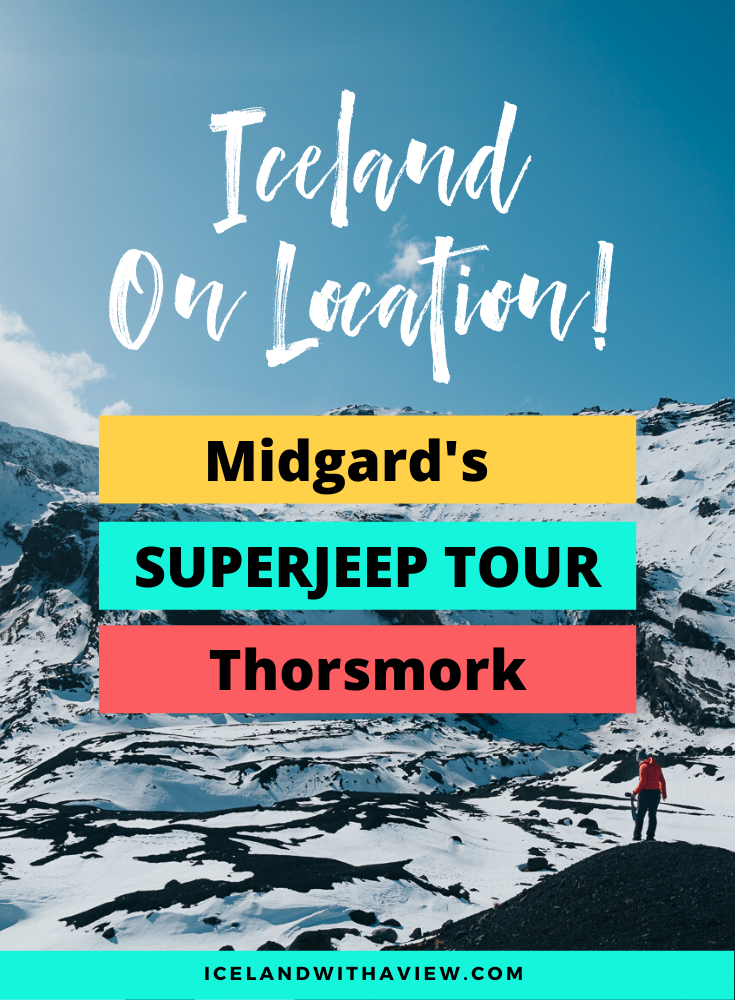 SUBSCRIBE for new Iceland tips every week!