You know what my favorite part of traveling in Iceland is? Going to places that are off the beaten path! Don't get me wrong, places like Geysir and Skogafoss are definitely sights worth seeing, but there's something special about being the only one around in the middle of pure Icelandic nature!
In January, I ventured out on a road trip for a day of exploring. I had my eye on these beautiful waterfalls for a while, so I was excited to finally see them in person! Even though there was still snow everywhere, and only 4 hours of daylight, that never stops me from discovering new waterfalls! Not to mention this is a 2-for-1 waterfall stop, 90 minutes from Reykjavik, who wouldn't want to see it?! Especially if you are on your way to Snæfellsnes, or short on time, you NEED to stop here!
Oh, did I mention I was the ONLY PERSON out there?! The perks of Iceland in the winter!
When you get out of your car,  you will immediately hear the rushing water of the falls. Walk straight ahead to a viewing platform to get your first look at the gorgeous Hraunfossar (translates to "Lava waterfalls"). When I first saw Hraunfossar it was everything I had imagined, but BETTER. You guys, this is the ultimate waterfall: a long wall of water cascading over moss covered lava, falling into bright turquoise water!
#waterfallheaven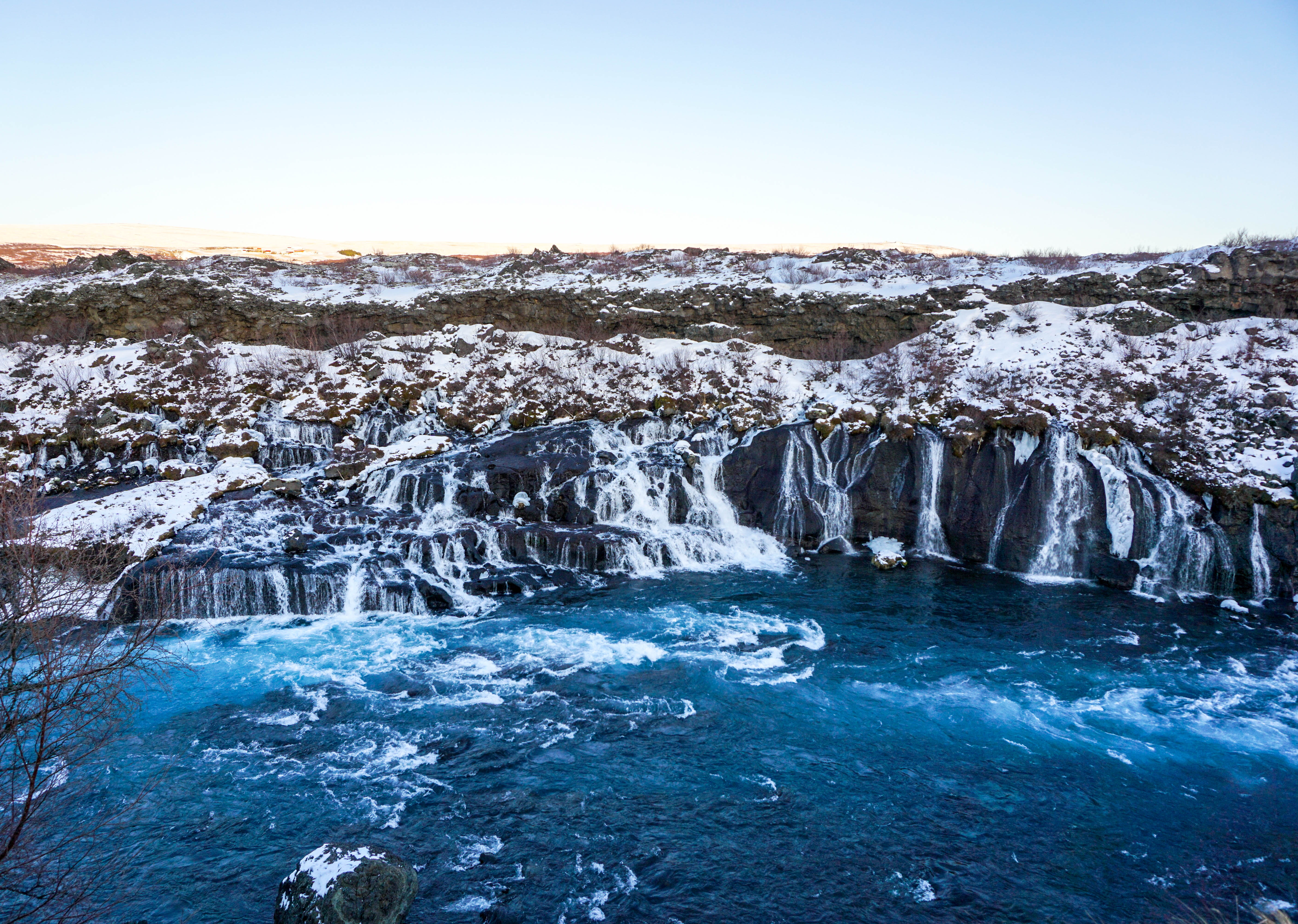 The water falls into the Hvitá River – downstream from Gullfoss waterfall! I love the look of this river, bright water carved out between sharp lava walls. If it's a clear day you can see the Langjökull glacier in the bg.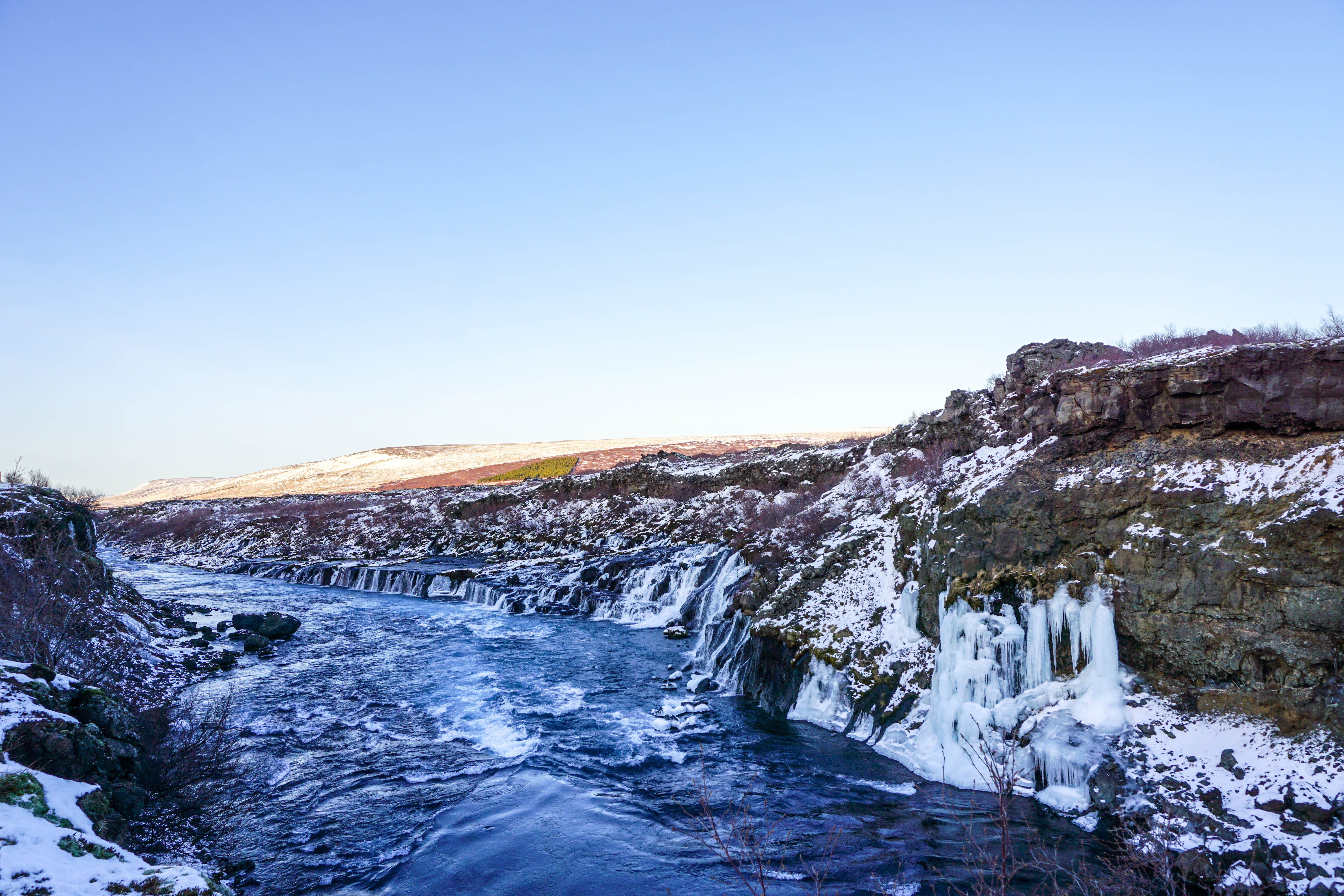 After plentyyy of photos, head right to start walking towards Barnafoss. There is a well marked path, then you will come to a bridge crossing over the river. But don't forget to admire the scenery along the way!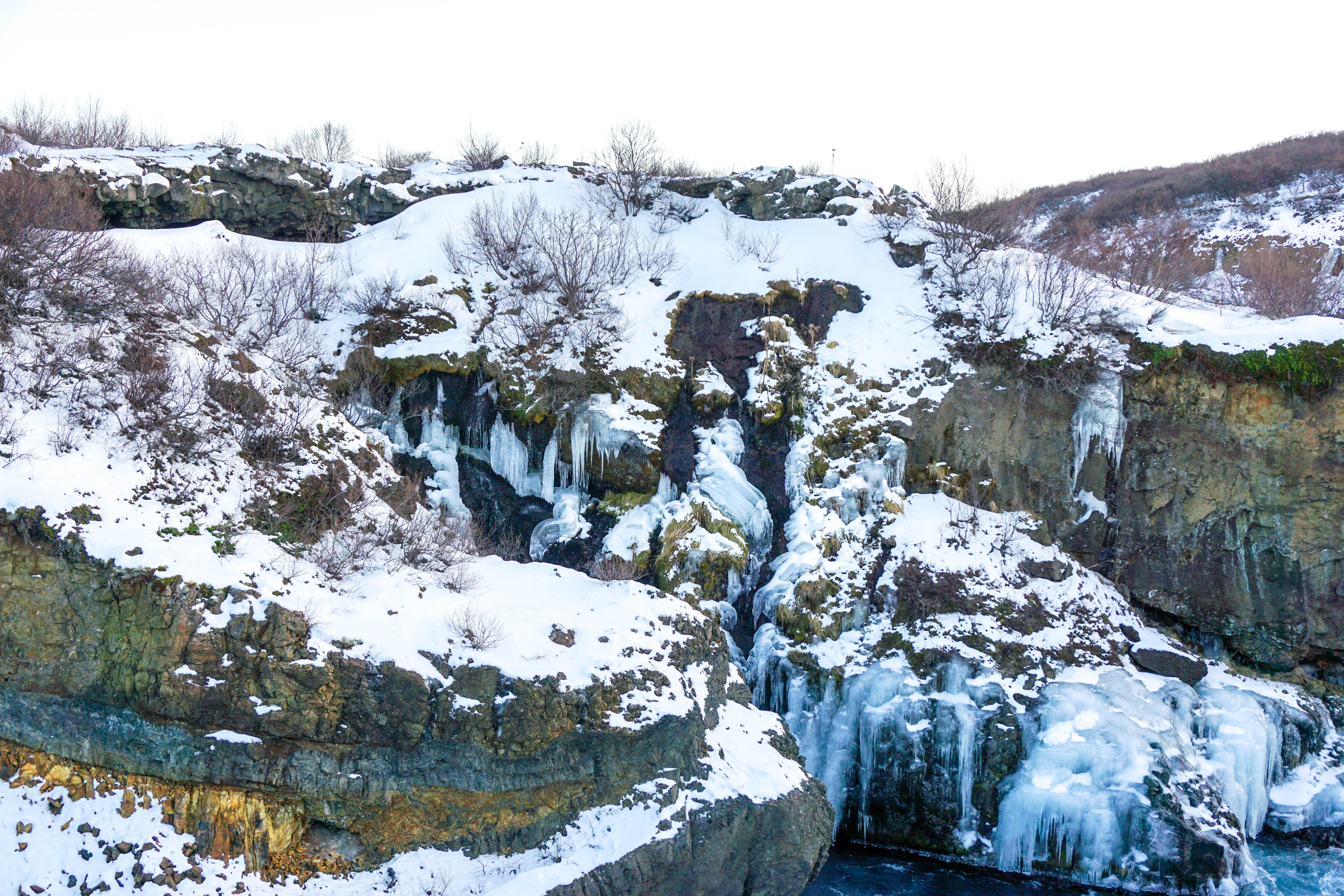 Look at all the colors in the rocks! I need a geologist friend to explain all of the awesome contrasts in Iceland!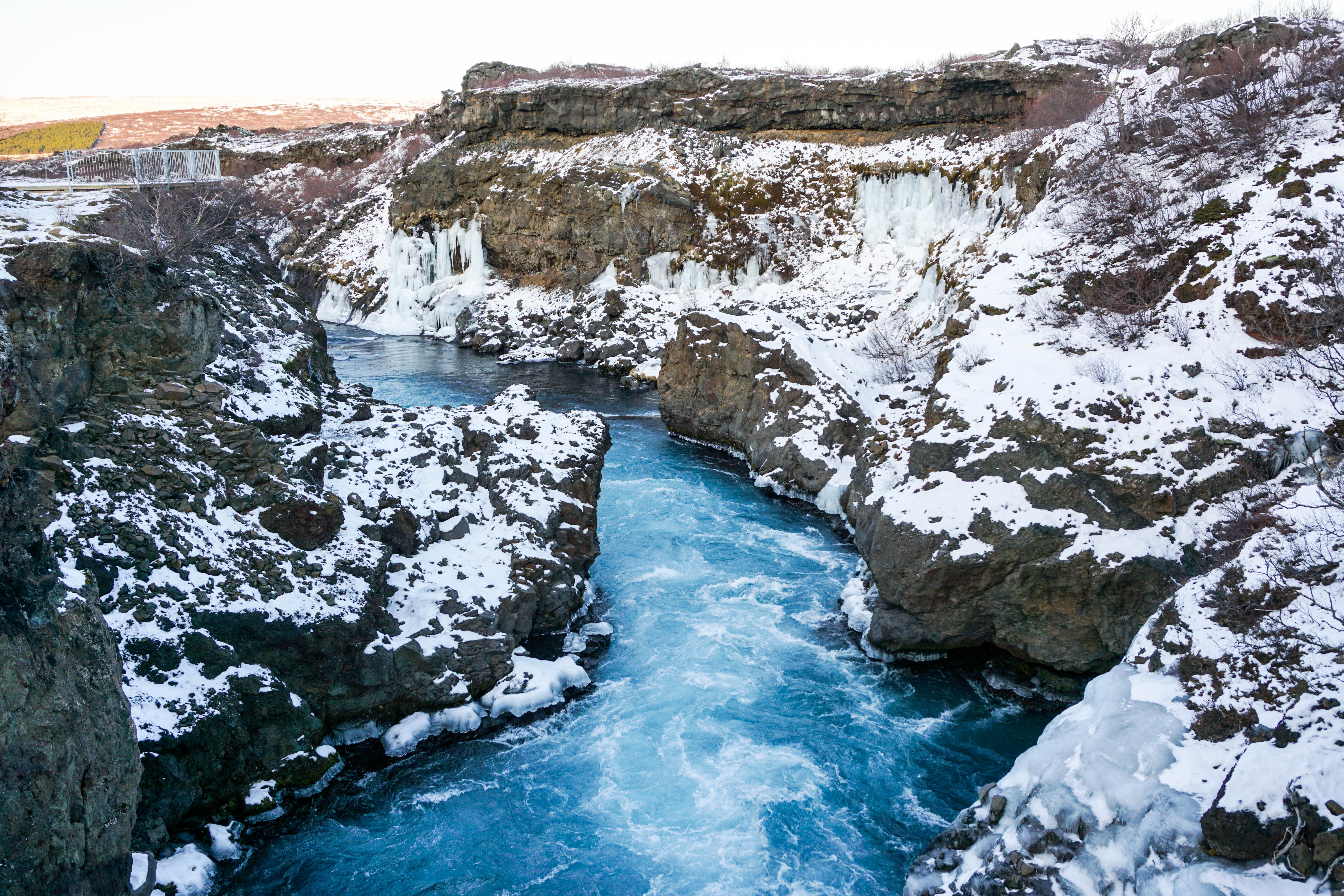 First of all: that water – are you kidding me?!
Second of all: next level icicles happening that day.
After you cross the bridge you will see Barnafoss on your left. Barnafoss translates to "children"s waterfall" and has a creepy Icelandic legend that goes along with it:
A woman and her two children were living on a nearby farm. The woman went to church service, leaving the kids at home. When she came back, the children were missing. People searched for the children and found footsteps up to the stone arch over the river. Devastated at her loss, the mother had the stone arch destroyed so no children could cross the falls again.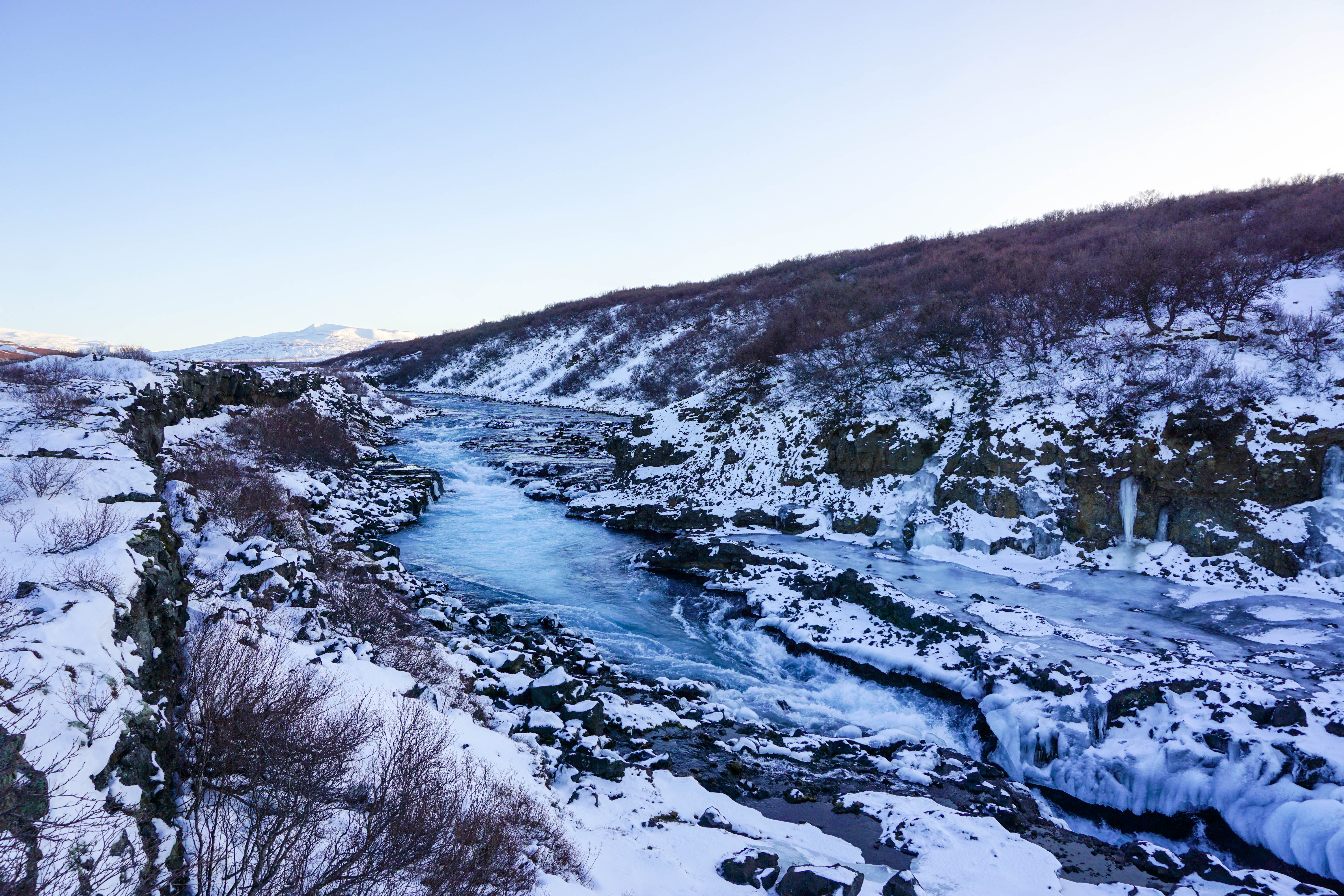 Isn't this area so beautiful?! I loved every minute of my short winter day trip. Being so close to Reykjavik, this hidden gem is definitely worth a stop.
Directions:
From downtown Reykjavik, get on Route 1 heading North. You will go through several roundabouts and a couple small towns. Continue for about 25km until you get to the Hvalfjordur tunnel (free as of October 2018).
After the tunnel, take a sharp right to stay on Route 1 towards Borgarnes. After about 10km, the road will split to Route 47, keep on Route 1 (the route is well marked with plenty of signs). Before crossing the bridge into Borgarnes, turn right onto Route 50, drive for 30km. Continue onto Route 518 towards Reykholt for another 20km. You will see a sign for Hraunfossar on the left side of the road.
What to bring:
FYI:
The walking path around the waterfalls are well marked and easy to navigate. No hiking involved.
There is a cafe at the falls open during the summer months.
This area can be snowy and slippery if visiting during the winter months. Make sure you have the proper outerwear! And always obey signs and roped off areas, the water is fast moving and extremely cold (aka you don't want to end up like the children in the legend!)
Pin it for later!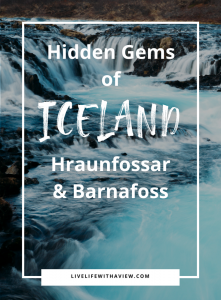 ---
Question: Do you like visiting hidden gems while traveling, or stick to the popular tourist destinations?