After our honeymoon, we could NOT stop talking about Iceland. Looking back at pictures, talking about that delicious reindeer dish we had in Egilsstaðir, and talking about the highlights of the trip. Other than seeing the Northern Lights (obviouslyyy, #1 lifetime bucket list item!) the one place we both decided as our favorite was Jökulsárlón glacier lagoon.
A lot of people overlook this attraction in exchange for other popular sights in Iceland such as the Golden Circle and all of the amazing waterfalls. Don't get me wrong, those places are so amazing and definitely worth every moment! But do yourself a favor and don't stop your journey in Vik. Keep driving that vehicle Eastward! (Actually what you should probably do is just take your whole year's worth of vacation time, and then ask your boss for an advance on your vacation time for next year and just spent as much time in Iceland as you can. Too dramatic? You won't regret it!)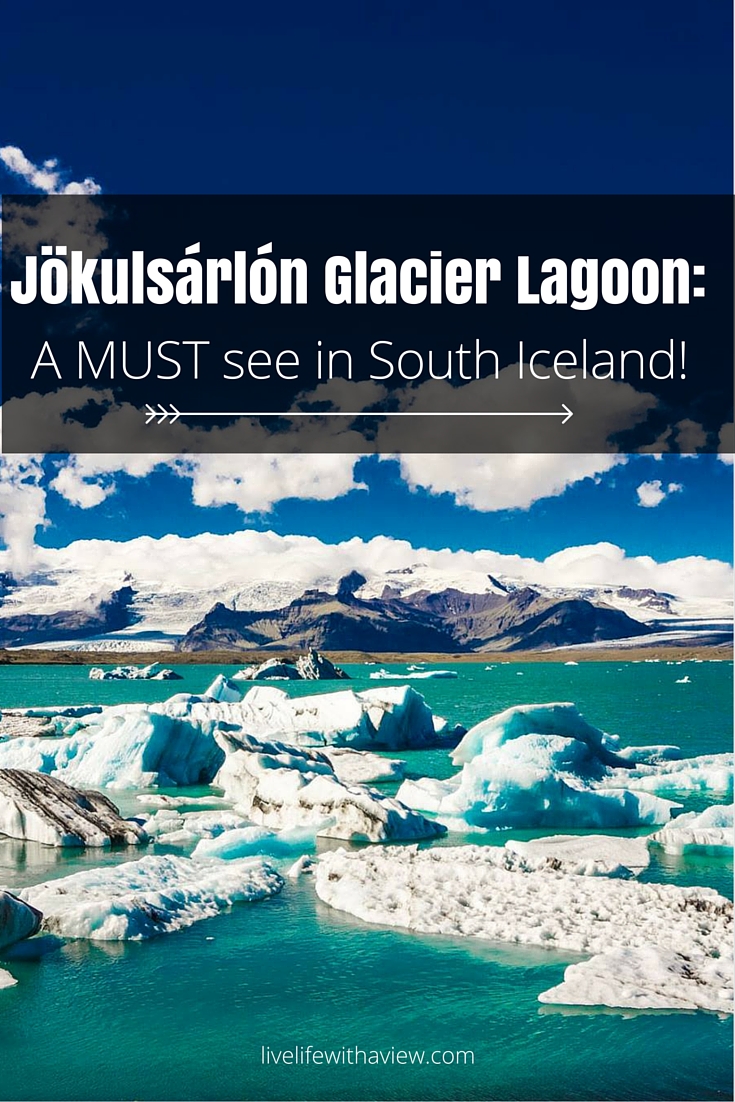 When we were planning our
honeymoon
, we had a hard time narrowing down our list of things to do. However, from pictures I had seen, I knew that Jökulsárlón was a must see. Especially because the icebergs breaking off into the lagoon come from Vatnajokull, the largest glacier in Europe. This glacier is an amazing sight to see in itself!
I will admit, we got very lucky with the weather on the day we visited the lagoon. In true Iceland form, it was cold and really windy BUT there were like three clouds in the sky and the sunshine was beautiful so I was in heaven.
The first thing we did was walk down to the ocean across from the lagoon, known as the crystal beach. As the icebergs break off the main glacier, they float around in the lagoon and eventually down the river and out to sea.  Some of the pieces stay ashore on the beach. The contrast of the black sand with the ice pieces makes for amazing photos! With the sun blasting through the pieces of ice, the ice chunks were super bright and lit up – it was amazing!
After spending plenty of time on the beach and hundreds of photos later, we headed back towards the lagoon for our scheduled tour.
Ice Lagoon offers two options for tours – Amphibian Tour and Zodiac Tour. The Amphibian boat fits more people and is slightly less expensive. The Zodiac tour is with a smaller boat that is able to get closer to the icebergs and even goes right up to the glacier – definitely worth the upgrade! The tour was very informative, and I would recommend it if you've never taken a guided tour about glaciers.Tours operate from April-October and depart at scheduled times throughout the day.
It's especially important to book a tour in advance if you are traveling in peak tourist season between June-September. You can reserve a spot and purchase tickets online at icelagoon.is
You even get to eat a piece of the glacier – that's a 1,000 year old piece of ice!
Okay, so I've been to New Zealand, I've seen glaciers, I've done a boat tour, I've even jumped in the glacier lake! (Yes it was approved and supervised. Yes, it was 33 degrees. Yes it was unimaginably cold.) I even have the video to prove it:
But THIS. PLACE. Words definitely can't describe it, and a picture looks pretty, but it still doesn't even capture it's magnificence. There's a reason we put it on a 40″ canvas above our couch as soon as we got home!
Yeah, the blue sky and sunshine was definitely a big bonus that day 😉
So really, do yourself a huge kodak moment favor and make sure your Iceland itinerary includes Jökulsárlón. Just remember that Iceland will never disappoint you for driving a little further!
 FYI:
-The best time of the year to see the full beauty of the lagoon is May-October. After that, less pieces are breaking off the glacier, so there are less icebergs in the lagoon.
-The best time of the year to see the full beauty of the crystal beach is November-March. This is when more of the icebergs will stay washed up on the beach.
---
Question: Do you have a hard time picking a favorite when you travel somewhere? Would you ever jump into freezing cold glacier water?!