The only thing better than hiking in Iceland? Hiking to a WATERFALL in Iceland. 💧

The Glymur Waterfall hike checks all the boxes. ✅
I've hiked the Glymur a few times, in both summer and fall and let me tell you – it's a hike for the books. Known as Iceland's second-highest waterfall at 198 meters, Glymur is a stunning sight to see.
The only way to see the Glymur waterfall is to hike to it. While it's a bit of a trek to see the view, it's 1000% worth it. Armed with river crossings, caves, and soaring cliffs – the Glymur trail is for those with an adventurous spirit.
Ready to explore?

This guide to the Glymur waterfall will tell you everything you need to know!
TABLE OF CONTENTS
Let's go! 💪
Reykjavík To Glymur Waterfall
The Glymur waterfall parking lot is just 44 miles and a short hour's drive from Reykavík, making it the perfect day trip out of the city.
The route from Reykjavík to Glymur is absolutely stunning. It's located in Hvalfjörður and the drive up there is through one of the most beautiful fjords in Iceland. Its name literally translates to "whale fjord" as it is the site of the local whaling station.

However, some years ago an underground tunnel was built which connects land and cuts off the fjord. While it's great for traveling long distances north, sad to miss out on this picturesque place!
If it's a relatively clear day and you decide to take the long route, I can promise you it will be worth the views.
➡️READ: 10 Reasons to Skip the Hvalfjordur Tunnel (And Take The Scenic Route Instead)
Glymur Waterfall Hike Time
The Glymur waterfall hike time can vary depending on a variety of factors, from:
Your skill level
How fast do you like to hike: Do you prefer to stop often and take photos or barrel straight to the top?
The specific route you take (there are various viewpoints you can hike to, out-and-back options, or more of a loop – more on that below!)
But generally, most hikers will probably spend around 2.5-3.5 hours hiking the falls.

This is definitely something you can take your time doing, or stop on the way to something else.
Glymur Waterfall Parking & Restrooms
Wondering what the parking situation is at the Glymur Waterfall?

Luckily, there's a huge lot with plenty of parking available. And even better news? It's free!
But a heads up — there aren't any restroom facilities available.
Pro Tip: On Google Maps, you'll find the parking lot under the name "Botnsá."
Route Options For Hiking The Falls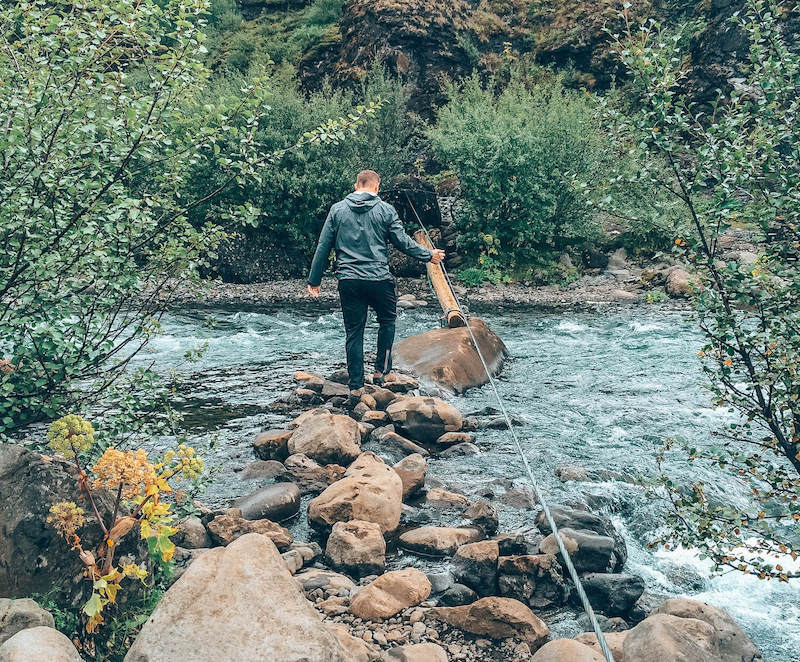 There are a couple of options for hiking the Glymur waterfall.
The first is the option that I've always done, and that's the out-and-back option. With this option, you'll arrive and follow the signs for the trail until you reach the first river crossing. This part of the hike is fairly easy and flat!

Once you cross the river, you continue your ascent up to the falls until your viewpoint.
After I'm done gazing at the stunning sight that is the falls, I usually head back the way I came.

However, I know other hikers who continue their journey up to the top and actually cross the falls so they can go back down the other side! This will give you the chance to see the falls from a different perspective.
But keep in mind…the second river crossing has no logs or bridges to cross over it. So you will ABSOLUTELY get wet! Some travelers opt for going barefoot, or others bring a second pair of shoes and socks in their pack.
If you opt for this route use extreme caution, especially if you're going barefoot. Sometimes the rocks can be sharp and/or slippery – so just tread slowly and carefully, and you should be A-OK! 🙌

Want to avoid river crossings altogether?
After completing the first stretch of the hike and arriving at the first river crossing, instead of crossing the river, you can choose to go up the left side of the canyon.
However, fair warning: the views aren't quite as impressive from this side.
So, if you're feeling adventurous, I highly recommend at least trying the first river crossing so you can see the Glymur Falls in all its glory!
How To Get To Glymur Waterfall
So once you've gotten to the parking lot, what does the hike up to the falls look like?

From streams to hikes to river crossings to more difficult climbs, the Glymur Waterfall hike has a lot going on!
The beginning of the hike is pretty easy, with lots of nice easy FLAT trails, and of course beautiful nature!
Make sure to look behind you as you hike – the beautiful Hvalfjordur! (P.S. Why do pictures never do it justice?!)
Pause At The Stream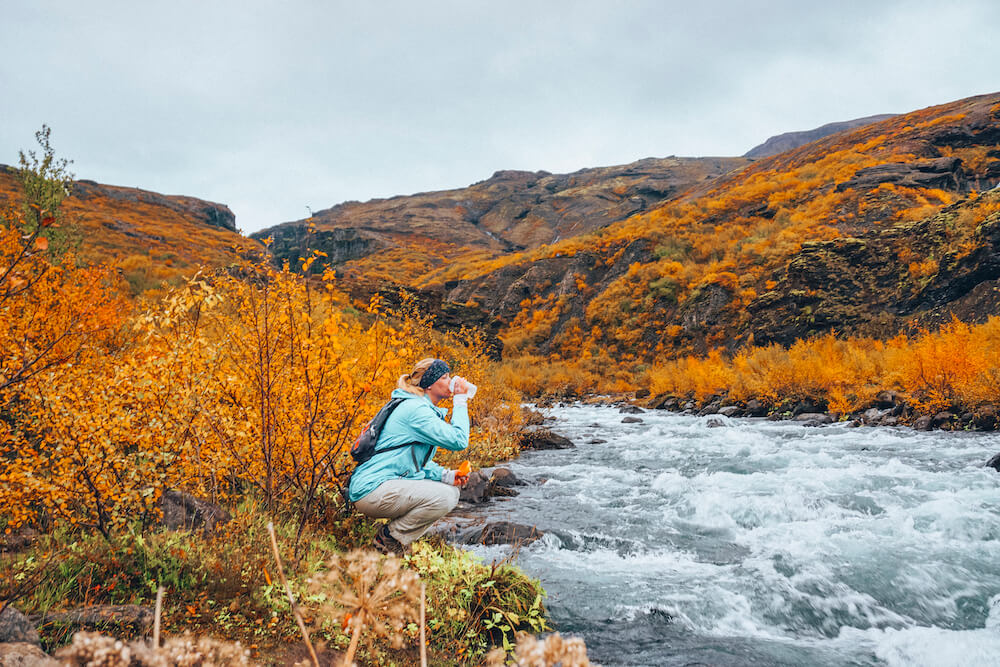 Not too far into the hike, you will come across a stream. When you come across a stream in Iceland, it is imperative that you stop and drink from it! No iodine tablets or water filters are necessary…just pure melted glacier goodness!
As you can see, I get really happy about drinking deliciously fresh cold mountain water. 😅
Cave
About halfway into the hike, you get to this huge cave – which is normally nerve-racking for me because I'm claustrophobic, but was thankfully very spacious.
This is a great spot for photo ops! 📸
River Crossing
And now we've arrived at one of the most memorable points of the trip…the river crossing!
It might not look like it from the photos… but you honestly have to watch your step! The water is flowing kind of fast, and trust me, there are rocks you'll want to sidestep to avoid a slippery situation.

You start on the left side of the wire, using the rocks to navigate, and once you reach the log you can either go under the wire or lift it over you – holding on to it as you climb up onto the log.
This second part of the crossing is much easier. Thank goodness for the cable to hold onto!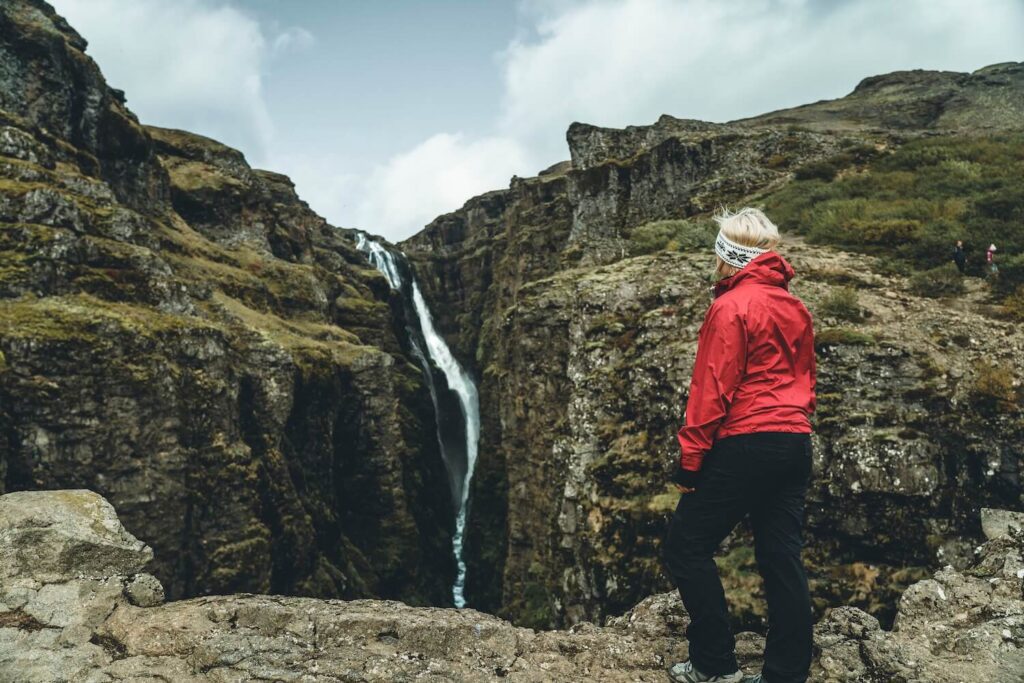 Hiking Up To The Falls
Once you cross the river, all you need to do is follow the signs until the top.
This part of the hike is a little bit more challenging. Let's just say proper hiking shoes and caution is needed! Parts of the trail get really steep, and you have to hang on to cables and chains to not slip or fall. Don't worry, this part is short and the views at the top will be worth it!
Glymur Waterfall Trail Difficulty
I would classify the Glymur Waterfall hike difficulty as moderate. The first part of it up until the river crossing is easy-peasy.
And while the river crossing isn't too difficult, it does take a sort of adventurous spirit!

Add in the climbs along steep cliffs where you have to hold a cable for safety, and you can see how this hike might not be the best fit for a newbie.

So if you're afraid of heights or prefer a well-marked, straightforward path for hiking, this trail might not be the one for you!
Best Time To Visit Glymur Falls
The best time to visit the Glymur waterfall is in the summer and early autumn – so from June until September. The log usually gets taken down around October/November (exact dates are unknown) as it gets too slippery as the weather gets colder.
By June, the snow has pretty much cleared and the log should be in place for the crossing, making this a much safer hike.
Can You Visit Glymur Falls In The Winter?
I wouldn't recommend attempting this hike in the winter. The log will be taken away by the late fall, so you wouldn't be able to cross the river.
Even though you can technically hike up the left side without the log, this is not a hike you want to attempt during precarious weather conditions, by any means.
What About The Glymur Waterfall Deaths?
Unfortunately, there have even been tourists who have gone hiking at Glymur in the wintertime and didn't make it home alive.
While this hike is perfectly safe under the right weather conditions, if it's even looking a LITTLE iffy – I'd recommend skipping it just in case. The last thing you want is to slip on some icy rocks and fall to a terrifying height.
This isn't meant to scare you, but just to help you keep safety at the forefront of your mind. So just stay smart, stay safe, gear up, stick to the path, and you should be all good.
Gear You Should Pack For The Glymur Waterfall Hike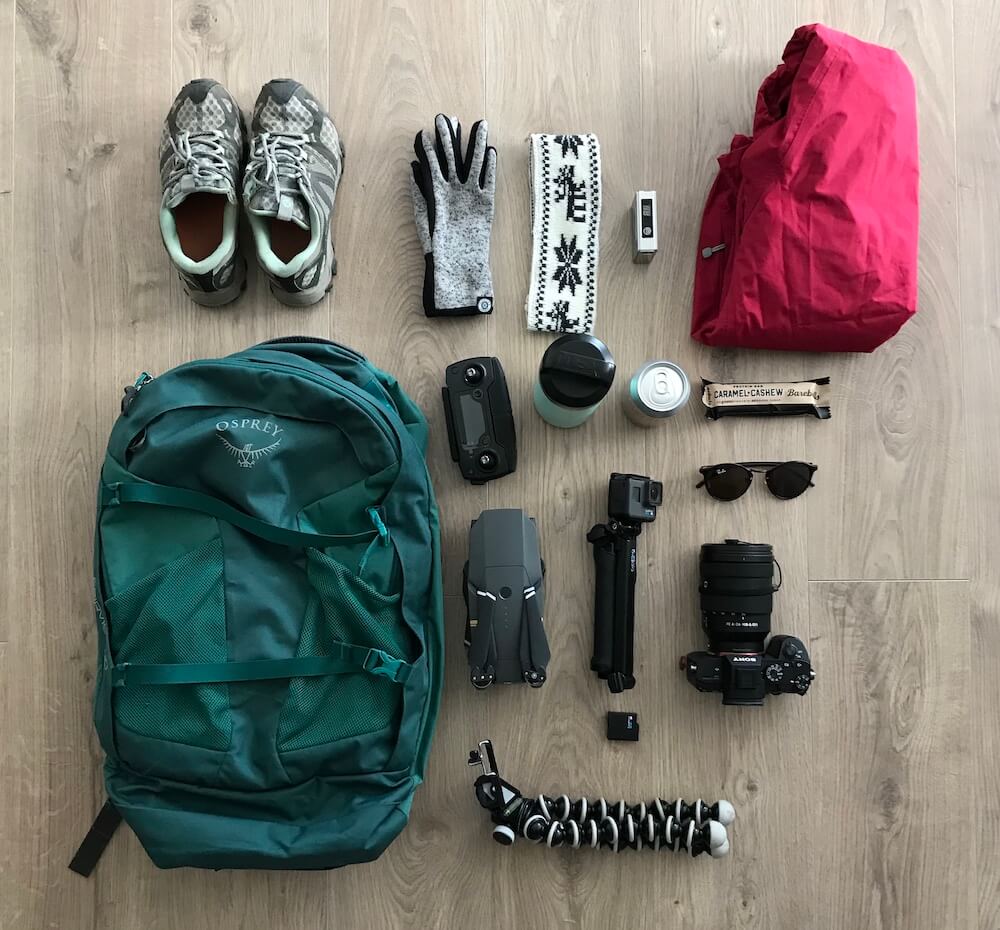 Wondering what you should pack for a day at Glymur falls?

Here's a quick snapshot of a packing list:
Long sleeve shirt
Vest
Jacket
Hiking pants
Hiking boots (waterproof is ideal!)
Gloves
Headband
Reusable water bottle
Snacks!
Backpack
Sunglasses
Other: water shoes or a second pair of shoes if you plan to do the second river crossing!
Want to be ultra-prepared for your Iceland hiking trip?

➡️Check out my Amazon packing list for hiking in Iceland!
Want More Waterfall Hikes In Iceland?
Trust me, there's plenty more where this came from!
Check out some of my other blog posts and videos on the best waterfall hikes in Iceland. 👇
Múlagljúfur Canyon | Waterfall Hike in East Iceland
Ultimate Guide To The Fimmvorduhals Hike In Iceland
Want to see my all-time favorite hikes and waterfalls plotted on one convenient map? 🗺
Then check out my Iceland Travel Guides & Maps for your trip.
Forget sifting through countless forums or social media posts. What you need is:
📗 In-depth, precise information crafted from years of experience.
📋 A structured plan so that you miss nothing.
😎 The peace of mind that you're armed with top-tier advice.

Here's What You'll Get When You Purchase:
A 176-page Travel Guide that's not just a list, but the ultimate companion for your journey.
An exclusive Digital Map with over 500 pinpointed locations.
Bonuses like access to our VIP Facebook community and a groovy Icelandic Spotify playlist.
Updated info on hours, fees, menus, and a whole host of local insights.
➡️Shop Iceland Travel Guides & Maps HERE

Pin it for Later! 👇🏾