West Iceland has been a hot topic in the Iceland news lately. Lonely Planet just ranked it #2 in the world for
top regions to visit in 2016
, and with good reason! West Iceland is sometimes referred to as "little Iceland" because it combines the most diverse landscapes that Iceland has to offer: stunning glaciers, lava rock with the famous pillowy green moss, towering mountains, adorable fishing harbors, iconic lighthouses, volcanic craters, jagged cliffs, a black sand and a white sand beach…all on a tiny peninsula in the northern Atlantic! Let's just say a trip to Snaefellsnes would not leave you disappointed.
I have been lucky enough to visit West Iceland twice – the first time was on our honeymoon trip last September, and the second time was with my sister last month. These were very different trips – the first trip was gray and raining, the second trip we had near perfect weather (for Iceland, that is). What a difference sunshine and a blue sky can make! It was like seeing everything for the first time, it looked completely different.  While you can't predict the weather in Iceland, having good weather is ideal because there is SO much to look at. However, if you end up in Snaefellsness on a cloudy day, don't fear, you will still see beautiful things! (obviously, we fell in love and moved here even though it was raining the whole time.)
So while West Iceland definitely lives up to the hype,  it's hard to narrow down a list. However, these are my favorites, including the usual and a couple of hidden gems.
1. Gerðuberg Basalt Columns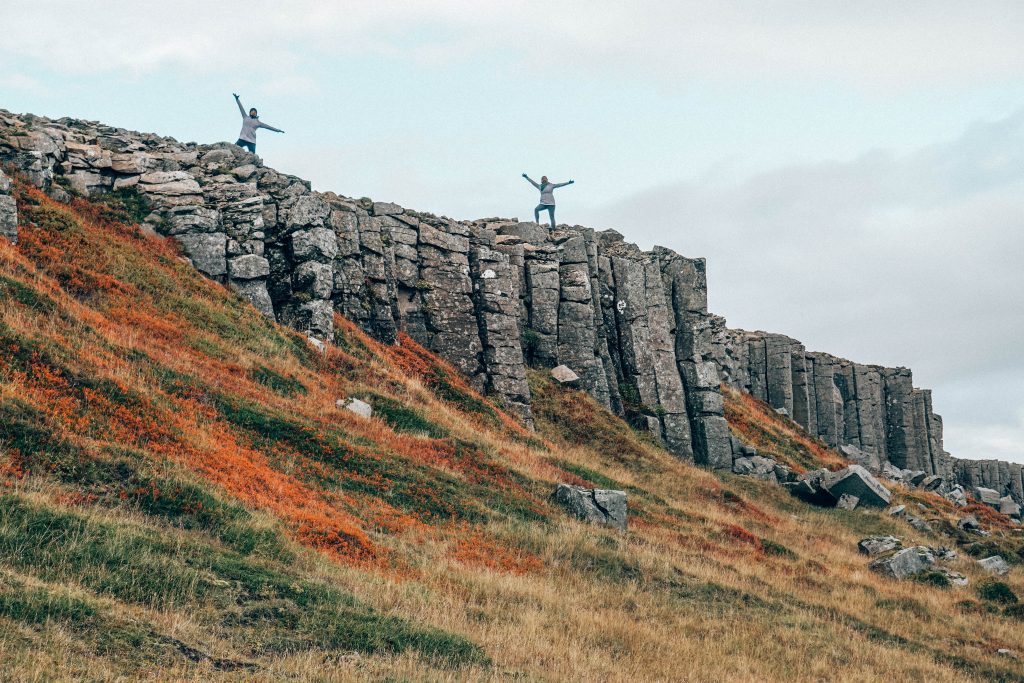 This would be the first stop when driving to Snaefellsnes from Reykjavik. The Gerðuberg basalt columns are huge hexagonal rock structures that fun to climb around on and a unique sight to see! When traveling on Route 54, you will pass road 571. Drive about 7km/4mi and you will see a turn for Ytri-Tunga Farm (almost directly opposite Route 567 to Hótel Eldborg.) Turn onto the farm road and you will see the basalt columns on the left.
Stykkisholmur is a tiny little town on the north coast of the peninsula. The town is adorable, the fishing harbor is adorable, even the lighthouse is adorable! Fun fact, a scene from The Secret Life of Walter Mitty was filmed in the yellow building next to the harbor!
Don't miss:
A walk up Súgandisey cliff for unbeatable views of the harbor and the North Atlantic (and the West Fjords if its a clear day!)
Dinner at Narfeyrarstofa for a delicious meal prepared with fresh and local food (closed after October)
Nesbrauð Bakari for coffee and a kleina, the famous Icelandic donut.
3. Hellnar – Arnarstapi walking trail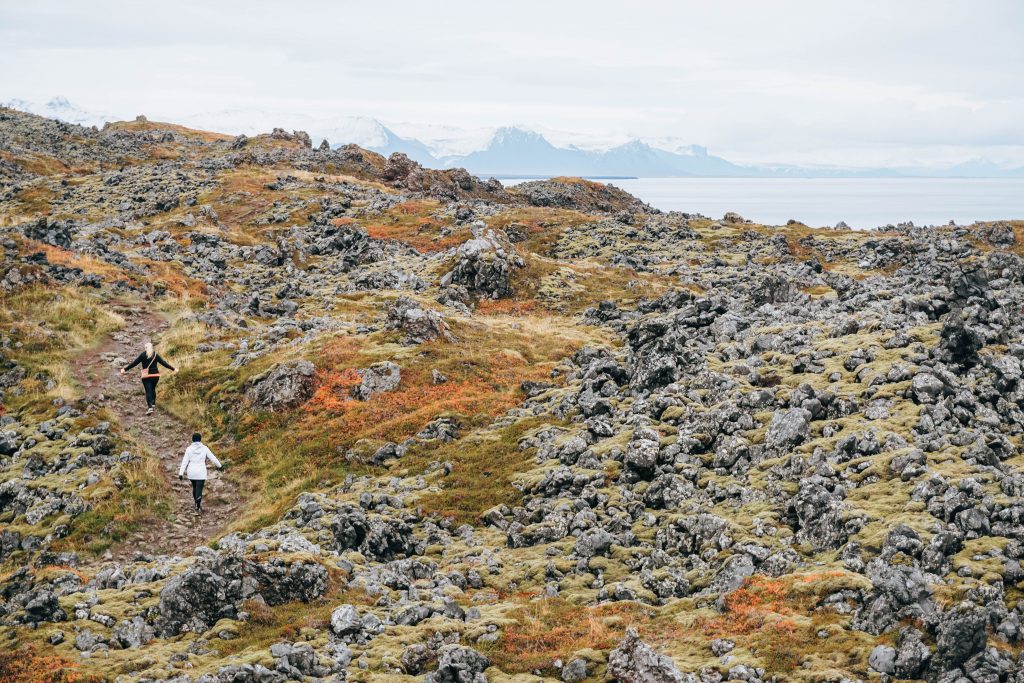 Both Hellnar and Arnarstapi are small little towns on the south coast of the peninsula. There is a walking trail that runs through a lava field between the glacier and jagged cliffs into the ocean. (No, I'm not kidding. I know, it sounds too good to be true. Yes, it is wonderful.)
I suggest parking in Arnastapi and walking towards Hellnar and fueling up at the Fjöruhúsið café (it's so small and adorable that it doesn't even have a website!) I recommend the chicken quiche, Bobby always gets the homemade waffle. You can't go wrong.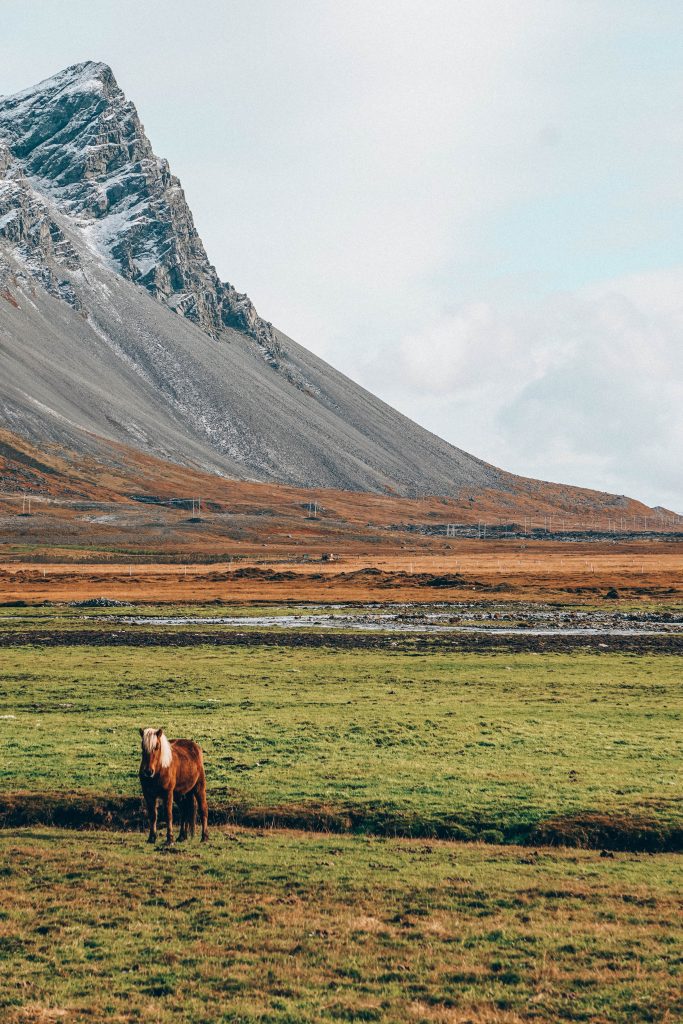 There are many places in Snaefellness to do horseback riding, but both times I have gone with Lysuhóll and both times have been wonderful. You can choose the duration of the ride – one trip goes down for a ride along the beach, one trip goes walking through a lava field at the base of the mountains. Either way, the scenery is unbelievable!
Note: It is advised to book in advance, especially during peak tourist season.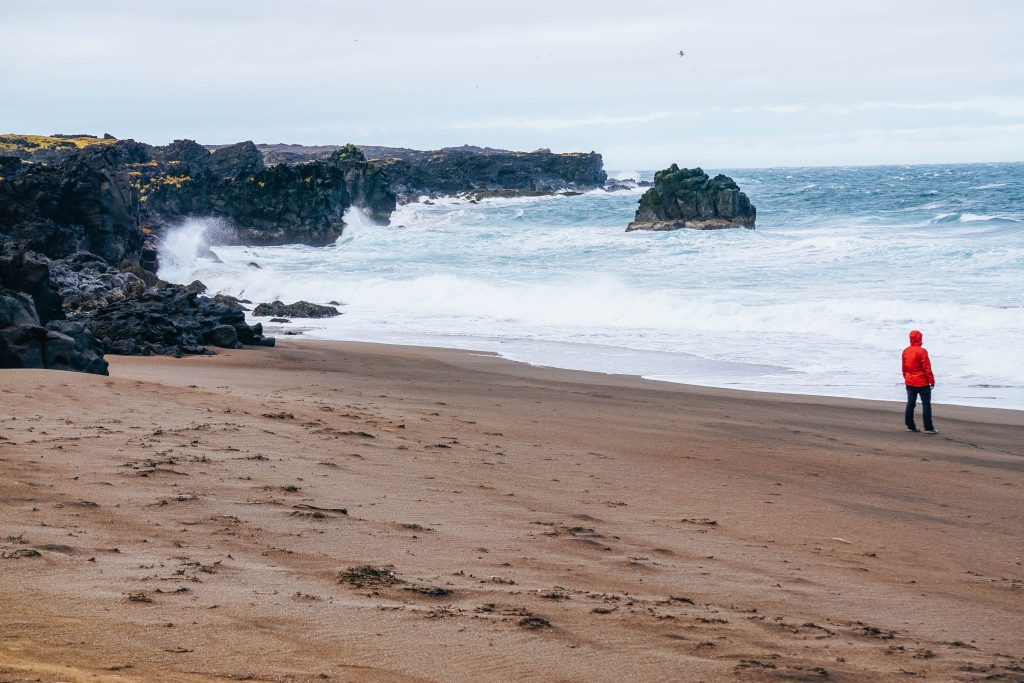 Iceland is definitely known for it's unique and stunning black sand beaches, thanks to years of volcanic activity. Skardsvik is a white sand beach at the tip of the peninsula. We caught the sunset here last month and it was amazingly beautiful.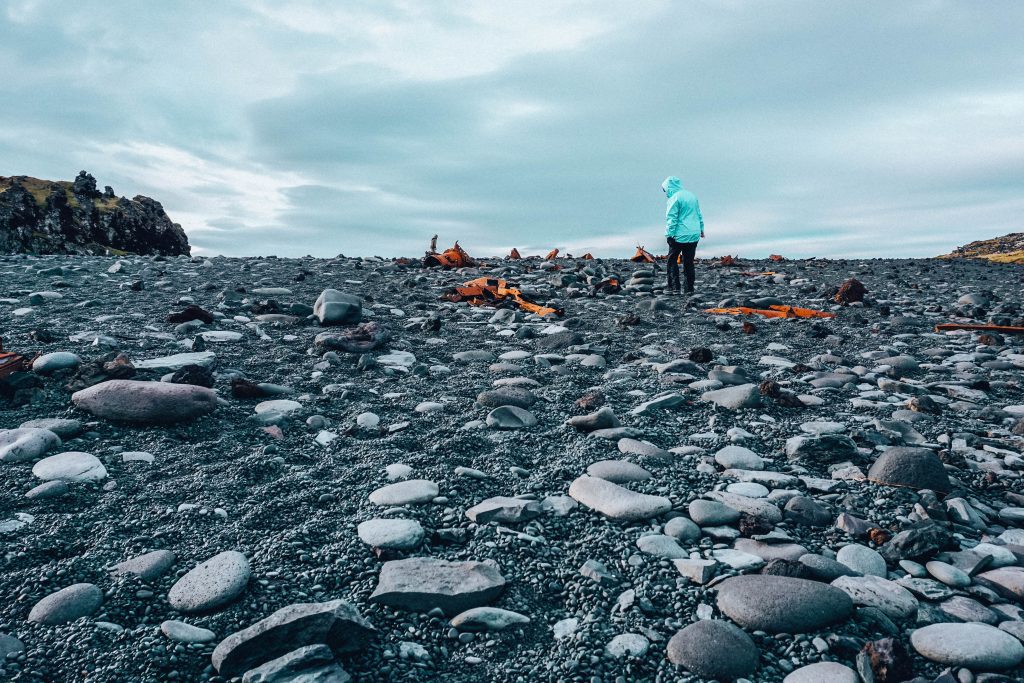 Djupalonssandur is a classic Iceland black sand beach.  On the walk to the beach are four lifting stones of various weights. These were used many years ago by fishermen to test their strength to qualify men to work on the fishing boats. Years ago the beach was a harbor for many fishing ships, but now only ruins of an old fishing vessel remain.
Bonus: Great views of my favorite glacier!
7. 
Berserkjahraun Lava Field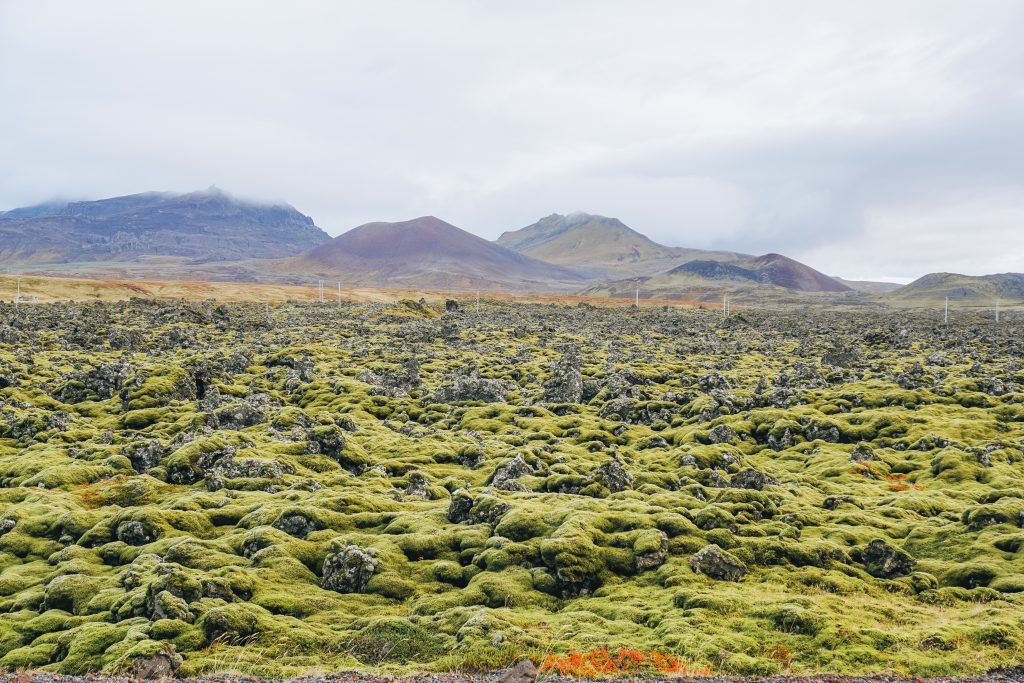 This place literally looks like the Land Before Time was filmed here! This huge lava field is one of the best in Iceland and with those red mountains in the background?! Don't just drive by, pull off for a proper look!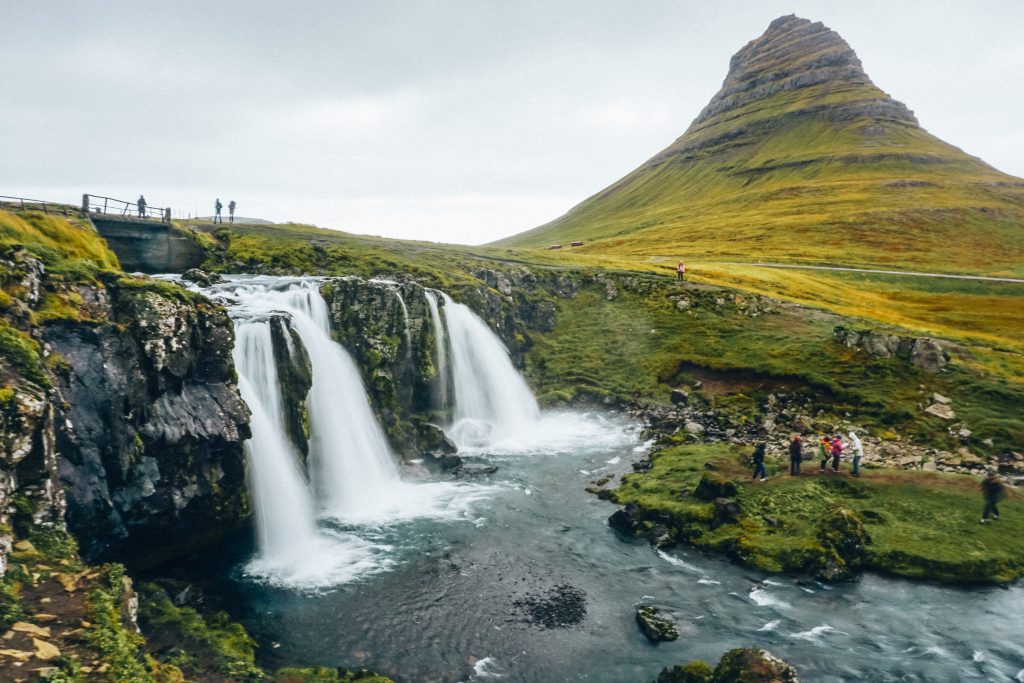 The infamous Mount Kirkjufell. Kirkjufell means "pyramid mountain" which is obviously fitting considering its perfectly pyramid-y shaped. On the south side of the mountain is Kirkjufellsfoss – two perfectly placed and amazingly picturesque waterfalls. Kirkjufell is the most photographed mountain in all of Iceland, and it's easy to see why!
Funny story: our first trip through Snaefellsness we actually missed the waterfalls because it was so cloudy and raining that we just wanted to keep driving. So we just stopped at the side of the road to take a few photos of the mountain. That tells you how different it can be when its raining!
Don't forget:
Drive through Seljafjordur and Kolgrafafjordur for some incredible views. There is a bridge that runs through the fjord with mountains surrounding you that is so beautiful it might make you cry with happiness.
Londrangar is another iconic landmark in West Iceland. These uniquely shaped structures sticking out of the sea are actually the remains of a volcanic crater, which has been eroded by the sea. Even though you can see this from the road, its worth the time to walk down by the sea to get a better look!
Tip: You can also drive down to Malarrif and take a short hike from there to the rock formations and back. Takes about an hour.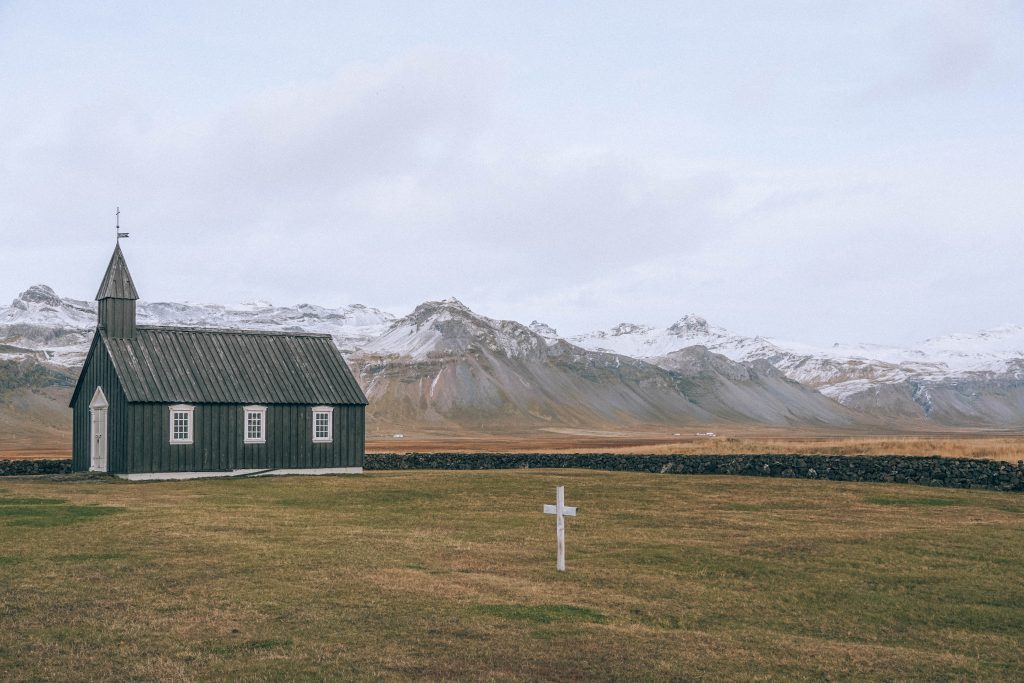 Another iconic part of West Iceland is the black church in Budir. When we were here last month I got to see a wedding set up in the Hotel and it looked so pretty. Wedding photos would be incredible here!
Tip: this area also offers beautiful opportunities for photos of Snæfellsjökull.
Bonus: Snaefellsjokull Glacier Tour

If you have extra time and are super adventurous, you can book a tour to go up to the glacier. It's definitely on my bucket list!
---
Question: What is your favorite in West Iceland?
Happy planning,

Pin it for later!